Three Scholars Find Their Way to One "Flexible" Med School

The Icahn School of Medicine at Mount Sinai is dedicated to cultivating a community of innovation by bringing medical students from a variety of disciplines together in one place. Their mission: to make significant advancements to the field of medicine through collaborative learning, curiosity, and scholarly inquiry.
Given Mount Sinai's values, it's no wonder that three Robertsons found themselves applying, and ultimately being admitted to, the program this year – specifically to its FlexMed Early Assurance Program.
"You apply your sophomore year," Dorian Ho (Robertson '25) explained. "They strive for people who are interested in medicine, but also something else. The idea is that with the early assurance program, students can really home in on those sorts of things which may not be emphasized in a typical pre-med track. So as the name implies there's flexibility."
In addition to being able to pursue a curriculum outside of the standard premed courses, students who are admitted to the FlexMed program are also able to defer their enrollment for up to two years after they graduate college. They're also spared the experience of taking the MCAT – the standardized admissions test for medical school.
"What they're looking for is the type of modern physician who's not just being a clinical provider, but untethering from that and serving as an activist, a policy maker, an executive, a global citizen… someone who understands that its not just about the clinical care that we provide that ensures patient outcomes, and embraces many other perspectives and walks of life to know the human condition," Dorian added.
Dorian is joined by two of his classmates, Frank Mercer IV (Robertson '25) and Anna Seaman (Robertson '25) in the newly admitted class of FlexMed students at Mount Sinai.
Frank is a Philosophy major, studying Economics, Russian, and Chemistry. Anna is a Health Policy and Management major with minors in Chemistry, and Medicine, Literature and Culture. She describes the minor as being a mouthful and as "English with a medicine focus." Dorian, is also a Health Policy and Management major, with a minor in Neuroscience.
It's an impressive feat for all three to be accepted. The FlexMed Early Assurance Program has approximately a 4% acceptance rate according to Dr. Valerie Parkas, Senior Associate Dean of Admissions, "Each year we only accept about 30 to 40 students. So, it's a small cohort. But we're looking for folks who have a narrative, a passion that they can show us, and that they can be change agents in some way."
Dr. Parkas says it comes down to having a vision for the future, "Can they see the issues that they care about and be innovative and have initiative? These students are deciding to be part of a solution, or at least work towards a solution. I don't want to say that any of the issues in medicine are so easy to solve – they're really hard. But I think that there's a sense of collaboration, leadership, and making change while being supported in a little bit of bold thinking."
The FlexMed program is one that Dr. Parkas and her team take pride in, "The overall philosophy is really about diversifying the physician workforce, including the different career paths into medical school. These students bring a different framework, a different lens and we're really proud of that."
Diversification of the work force is crucial in the eyes of Dr. Parkas, "We have to decrease the barriers and allow folks with different expertise to be in the profession because we need to have people who understand clinical medicine and also understand whatever else it is. We need folks who understand education and medicine, who understand policy and medicine, who understand computer science and technology and medicine, who understand engineering and device development and medicine, and translational research – really the list is endless. Medicine is wonderful, but there's a lot of things that are needed to be improved upon. And it's only with creativity and a diversity of folks at the table that we can start to solve those problems."
Creativity and ability to continue exploring their passions is what drew Frank, Anna and Dorian to FlexMed. Each of them is excited to continue digging into their curiosities as young scholars and leaders.
"My primary major in school is philosophy, and it isn't necessarily known for lending itself to a form of utility. But I'm excited to keep exploring it – and I'm on a research team, Project Vox, that I think is doing really important work, bringing some philosophers who have typically been left out of the canon back into it. But what I'm most excited for in terms of the flexibility that Mount Sinai is providing me, is an opportunity to explore a career in finance. Last summer I was able to intern in fixed income, and I think this is just a totally different world than where my studies have lied. I found it so interesting and I had a great time last summer, and I'll be back this summer – so I'm excited to see where it takes me," Frank shared.
For Anna, she's firm on exploring her work in health policy before matriculating at Mount Sinai, "I don't have any intention of matriculating right away, I'm thinking about where I'm at and if I'm in a place to go through Med School and be a good physician right now who is able to care for people. I think I still have a bit of time to grow and I'm hoping to take this summer and maybe a year after graduation to continue exploring down that path. Maybe get a bit more experience in the actual field of health policy whether that be on the agency level or the government level. I think that experience will be so helpful before I go into medical school."
Dorian, is especially excited about the ability to be curious without the constraints of pre-med, "I'm now confronting decisions that I didn't even think were previously on the table. Should I take a gap year? Should I attend graduate school? What would it look like to get a Masters in policy, evaluation, or something like that? There's a lot of opportunity here and I'm still exploring to be quite frank. But at least I have the option – and it's lovely to have that flexibility."
Whenever they decide to matriculate Frank, Dorian, and Anna will join Adam Ushpol (Robertson '21) at FlexMed. Adam learned about the program during a class at UNC. For him, the parallels between FlexMed and RSLP were strong, "The Robertson allowed me to pursue an undergraduate experience that was rooted in the sciences, exposed me to the humanities, introduced me to business, and also involved global opportunities. And it's that kind of interdisciplinary approach that's ideal for the evolving needs of the health care sector today. It's also aligned with the type of entrepreneurial, collaborative, compassionate doctor that I aspire to be."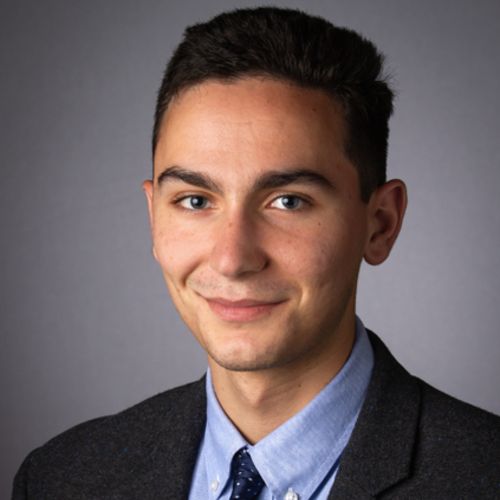 Adam is now starting his clinical rotations and has a strong inclination that he may be interested in pediatrics long term. But for him the leadership practices he developed as a Robertson are intrinsically linked to his path at FlexMed. "Being a part of the Robertson gave me an appreciation for a diversity of leadership styles not just the grand gestures and spotlight hogging type of leadership, but sort of the small everyday ways of doing well, being caring and kind that make a difference."
"Obviously there's the system innovation in health care, and that kind of leadership. But also, there's the leadership that's involved in working in an interdisciplinary healthcare team, communicating effectively with patients, and building trust with patients. I first saw these leadership principles in practice across my Robertson summers in a small community hospital in Eastern North Carolina, among the Sherpas who led me up Kilimanjaro, in Geisinger's C-Suite, and now in a multitude of physicians at Mount Sinai," he continued.
"I'm just really excited by the interest Anna, Dorian, and Frank have in Mount Sinai. I've had an amazing experience here, and I'm so happy for them – it's a privilege to be an ambassador for Mount Sinai, especially to fellow Robertsons, because it's obviously a community that means a lot to me."
His tip for Anna, Dorian, and Frank – stay curious, "Recognize the great gift of FlexMed. When you think about the premed track, you realize the strictures of the traditional curriculum, and how it might prevent you from pursuing some of your interests in college – so recognize the opportunity, and execute your FlexPlan."
It's something Anna, is already considering "The Robertson already puts you in a place to push what you think a leader is. I think we constantly ask the question 'what is leadership, and what is leadership to you' and then we push that boundary a little further, how can you be a transformational leader? I want to be a physician and something else – I can be transformative leader in this space of medicine and I can work in clinical care, but I could also work as a policy maker, I could work as a patient advocate, and how do all of those pieces of the puzzle come together to make me a better leader?"
"Robertson and FlexMed allow space for introspection, and I think with both of these programs what they're trying to achieve is just a much more conscious understanding of choices," Dorian added.
"Right," said Frank, "that's really fundamental to leadership and particularly Robertson leadership. A lot of the questions we ask are about us 'who am I?' – and the second aspect of the questions are 'what will I do?' putting ourselves into action around an idea. I think I know the answer to the first question…but 'what will I do?' I'm still working on that, but I think the Robertson has provided a really good framework for tackling that one by getting into action with a community. You can call it community involvement, but for me its about being a catalyst. You go out into the community and create exponential growth by the nature of the way you do 'the thing,' and hopefully it inspires others. I see the path to medical school and being a part of that community as a pretty apt allocation of what I believe my resources to be. I think the way that I plan on going about it will also hopefully inspire others to be change makers in their communities."