A Note on the Passing of Blanche Robertson Bacon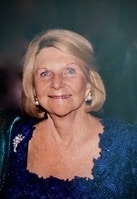 The Robertson Scholars Leadership Program is saddened to share with the community the passing of Blanche Robertson Bacon, sister of Julian Robertson.
Blanche was born in Salisbury, NC on October 2, 1935 and attended St. Mary's School in Raleigh, graduating from the high school in 1953 and the junior college in 1955.
After graduation, Blanche maintained a close connection to St. Mary's School, as a trustee for 16 years, chair of several events, and served on search committees. To surprise and honor her, in 2001 her brother, Julian, and other family members endowed the Blanche Robertson Bacon and Honors Scholarship ("The Blanche"), funding a St. Mary's education for outstanding boarding students.
Blanche was civic minded, serving her community in a variety of roles including the Junior League of Raleigh, and as director of the Wake County Boys and Girls Club for 24 years; in 1993 she was elected as the first woman to ever chair the board. Blanche also served for 17 years on the Board of Visitors at the UNC Lineberger Comprehensive Cancer Center.  
In lieu of flowers, the family requests that any memorials be sent to St. Mary's School (900 Hillsborough St. Raleigh 27603), Christ Church (120 E Edenton St. Raleigh 27601), Boys & Girls Clubs (701 N. Raleigh Blvd. Raleigh 27610), or to any deserving charity. Notes of remembrance or sympathy may be shared by emailing alumni@robertsonscholars.org.