Announcing the Class of 2026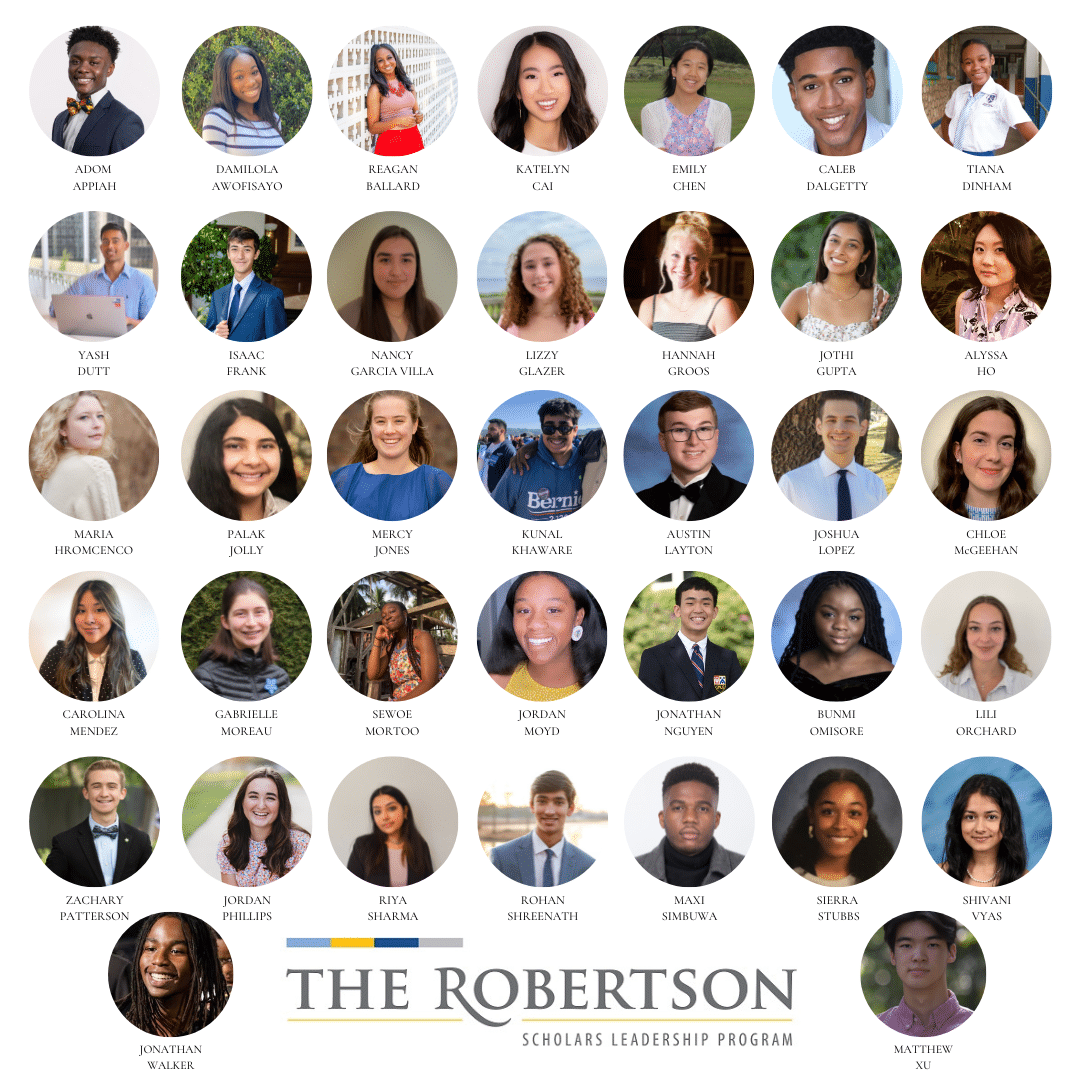 The Robertson Scholars Leadership Program is thrilled to welcome thirty-six incoming first-year students and one student who participated in a Global Gap Year to the Class of 2026 Scholars, the largest incoming class in program history. The Scholars selected are some of the brightest and most dynamic leaders from across the globe, representing five continents and nine countries. 
Duke University
UNC Chapel Hill
Adom Appiah Spartanburg, SC 
Damilola Awofisayo Woodbridge, VA
Katelyn Cai Scottsdale, AZ
Caleb Dalgetty Englewood, NJ
Yash Dutt Brisbane, Queensland, Australia
Lizzy Glazer Chestnut Hill, MA 
Hannah Groos Norwalk, IA
Jothi Gupta Dallas, TX
Alyssa Ho Pasadena, CA
Palak Jolly Guruguram, Haryana, India
Mercy Jones New Plymouth, New Zealand 
Chloe McGeehan Ellicott City, MD
Bunmi Omisore Gambrills, MD
Lili Orchard London, United Kingdom
Zachary Patterson San Diego, CA
Jordan Phillips Aberdeen, SD
Rohan Shreenath Goldsboro, NC
Shivani Vyas Alpharetta, GA
Jonathan Walker Lynn Haven, FL
Matthew Xu West Windsor, NJ
Reagan Ballard Tulsa, OK
Emily Chen Cary, NC
Tiana Dinham Maryland, Hanover, Jamaica
Isaac Frank Dublin, OH
Nancy García Villa Dobson, NC
Maria Hromcenco West Chester, PA
Kunal Khaware Dublin, CA
Austin Layton Louisburg, NC
Joshua Lopez Garland, TX
Carolina Mendez Rockingham, NC
Gabrielle Moreau Toronto, Canada
Sewoe Mortoo Mooresville, NC
Jordan Moyd Fayetteville, NC
Jonathan Nguyen Hanoi, Vietnam
Riya Sharma Bellevue, WA
Maxi Simbuwa Lusaka, Zambia
Sierra Stubbs Rockville, MD
"The unprecedented number of applicants for the Class of 2026 led to the most globally diverse class of Robertson Scholars in the program's 20-plus year history. In an increasingly global economy we are ecstatic about the opportunity to further realize the vision of our founders, Julian and Josie Robertson, to engage in leadership development with students from nine different nations who will go on to make transformative contributions to their communities and the world," said Director of Recruitment Kay-Frances Brody.
The Robertson Scholars Leadership Program invests in young leaders who strive to make transformational contributions to society. Scholars are selected based on students' demonstration of outstanding academic achievement, intellectual curiosity, strength of character, purposeful leadership, and collaborative spirit. Andrew Lakis, Executive Director for the Robertson Scholars Leadership Program, remarked, "The Robertson Scholars Leadership Program is more than a scholarship to two world class institutions of higher learning–it is a life-long community of leaders committed to making transformational change. We believe in the power of young leaders to shape the world through conscious, committed leadership and design every element of our program with this belief at the core. The Robertson Class of 2026 is a dynamic and diverse cohort, and we are excited to spend the next four years and beyond supporting them as their leadership unfolds."
In addition to full tuition, room, and board, Robertson Scholars receive student privileges at both Duke University and UNC-Chapel Hill, including opportunities to pursue second majors and minors, enroll in courses, spend a semester in residence on the other campus, and participate in student activities. During the academic year, the Robertson Scholars Leadership Program provides customized leadership development experiences designed to encourage Scholars to lead with curiosity, purpose and a commitment to impacting the lives of others. Scholars are also awarded three generously funded summer experiences to supplement their learning, and have access to ongoing leadership development grants.
The Robertson Scholars Leadership Program was created in 2000 through the work and generosity of Julian Robertson, a 1955 graduate of UNC, and his wife, Josie. Inspired by their sons – one of whom graduated from Duke in 1998, and another from UNC in 2001 – the Robertsons believed that each institution offered a distinctive undergraduate experience, but that the combination of the two promised a breadth and depth of resources that no other university could match. The Robertson family continues to work closely alongside the Program staff to make this a one-of-a-kind experience for students.
The Robertson alumni network consists of more than 500 leaders on six continents, linked together by a common goal to make transformational contributions to their communities across the globe.