Class of 2026 Welcomes Two First-Years to Cohort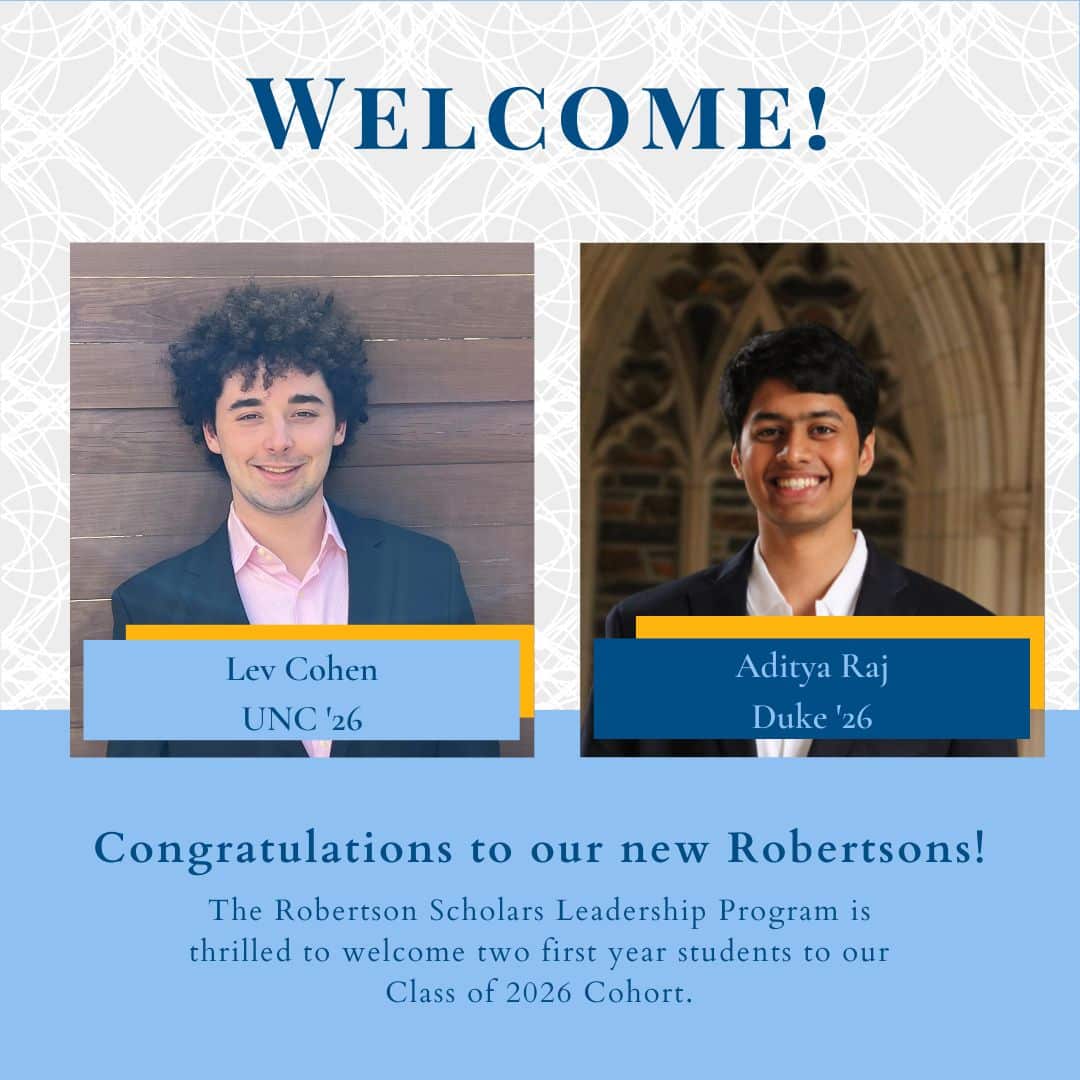 Chapel Hill & Durham, North Carolina, February 17, 2023– The Robertson Scholars Leadership Program is happy to congratulate and welcome two new First-Year students to its current Class of 2026 Scholars. The Scholars selected represent some of the brightest and most dynamic leaders from both the Duke and Carolina communities.
Aditya Raj, Duke University Class of 2026
Lev Cohen, University of North Carolina at Chapel Hill Class of 2026
"The Robertson Scholars Leadership Program is the only program of its kind that welcomes applications from first year students. Since the inception of the First-Year application process in 2010 the Robertson Program has enriched our cohorts with the addition of students who come to Carolina and Duke and hit the ground running. These students make each cohort more robust by adding additional diversity of thought and interests. We are thrilled to bring Lev & Aditya in as part of the Robertson Scholars family." said Kay-Frances Brody, Director of Recruitment & Selection for the Program. The newly selected Scholars bring the total number in the cohort to thirty-nine, the largest in program history.
The Robertson Scholars Leadership Program invests in young leaders who strive to make transformational contributions to society. Scholars are selected based on students' demonstration of outstanding academic achievement, intellectual curiosity, strength of character, purposeful leadership, and collaborative spirit. Andrew Lakis, Executive Director for the Robertson Scholars Leadership Program remarked, "The Roberson Scholars Leadership Program is unique. We truly believe in the power of transformational leadership, and are committed to investing in individual and collective experiences for our Scholars that position them to be curious and conscientious leaders as they go forth and contribute positively to their communities. Aditya & Lev have already excelled in the classroom and demonstrated a commitment to the Program's core values in making an impact on the Duke & UNC campus communities. We are excited to see what unfolds for them as they join our Class of 2026 cohort and the ways in which they will contribute to the Robertson community and beyond."
Robertson Scholars receive student privileges at both Duke and UNC-Chapel Hill, including opportunities to pursue second majors and minors, enroll in courses, and participate in student activities. During the academic year, the Robertson Program provides customized offerings designed to encourage Scholars to realize their full leadership potential.
The Robertson Program was created in 2000 through the work and generosity of the late Julian Robertson, a 1955 graduate of UNC, and his wife, Josie. Inspired by their sons — one of whom graduated from Duke in 1998, and another from UNC in 2001 — the Robertsons believed that each institution offered a distinctive undergraduate experience, but that the combination of the two promised a breadth and depth of resources that no other university could match. The Robertson family continues to work closely alongside the Program staff to make this a one-of-a-kind experience for students.
The Robertson alumni network consists of more than 550 leaders on six continents, linked together by a common goal to make transformational contributions to their communities across the globe.