Jake Gerardi (UNC '24) on their Commitments to the Carolina Indian Circle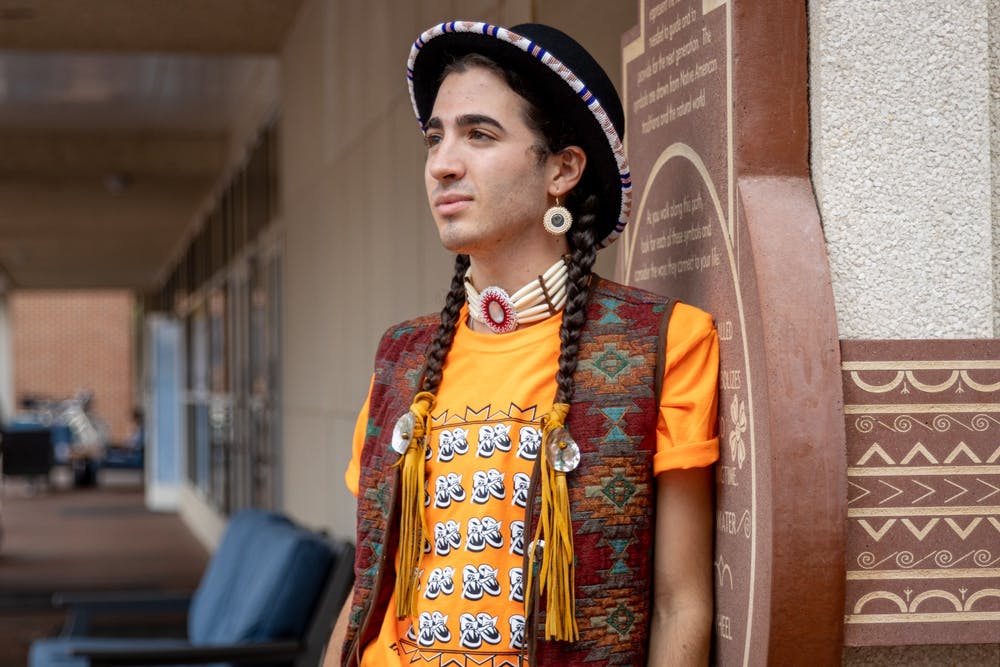 On Monday October 11, 2021 the University of North Carolina recognized Indigenous Peoples' Day, a recognition and celebration long in the making through the advocacy of the Carolina Indian Circle.
UNC Class of 2024 Robertson Jake Gerardi shared why the celebration was so important to the community and a bit more about their role as Political Action Chair of the CIC.
"My role as political action chair in CIC entails leading the activist wing of the organization. Founded in 1974, CIC has always been a place for Indigenous students at Carolina to gather, but it's additionally always been a space of protesting for our greater rights, representation, and visibility on campus. The role of the political action chair varies from year to year. Over the past few years, it's involved extensive campaigning for UNC to recognize Indigenous Peoples' Day, something they have finally done." Jake was inspired to run for the position by a close friend, who previously held the role. "She nominated me and encouraged me to run, as it lies at the apex of my interests in Indigenous rights and activism."
The celebration at The Gift on UNC's campus included traditional dances, songs, and ceremonies highlighting the contributions of indigenous people to the University, including recognizing that UNC sits upon the unceded land of the Eno, Occaneechi, Shakori, and Sissipahaw nations. Jake, who descends from the Listuguj Mi'gmaq Nation, performed the Mi'gmaq honor song to open the ceremonies.  "The song is celebrating our being Native and our gathering together," Jake shared in an article published by the Daily Tar Heel.
Robertson Scholars are asked to identify their commitments, and explore them within the context of their leadership development. Jake shared, "As an Indigenous student from a nation that is quite far away, my first commitment within CIC is always to defer to the knowledge and opinions of the rest of our executive council, all of whom are Native people from within the state of North Carolina. I always make sure to be aware that I am a visitor on their land, and I am conscious about how to navigate a role of leadership while doing so. I am learning through this the leadership skill that is the value of listening to others and collaborating with them, is a priceless skill in any workplace or organization."
For Jake, the program has helped push them to, "see what does and doesn't work in a leadership setting." They shared, "The way our staff treat us as equals to them and have shared with us the difference between pyramidal and curricular leadership relates closely to Indigenous values of leadership."
Photo courtesy of The Daily Tar Heel & Photographer Ira Wilder