Twenty years after the first Scholars class entered the Program, our alumni community now includes over 450 Scholars. These individuals are leaders all over the word, living out the values of the Robertson Program as teachers, bankers, doctors, poets, lawyers, consultants, scientists, researchers, and entrepreneurs. They remain a vibrant and committed group of individuals who make significant contributions to the communities around them.
What Does the Robertson Scholars Leadership Program mean to you?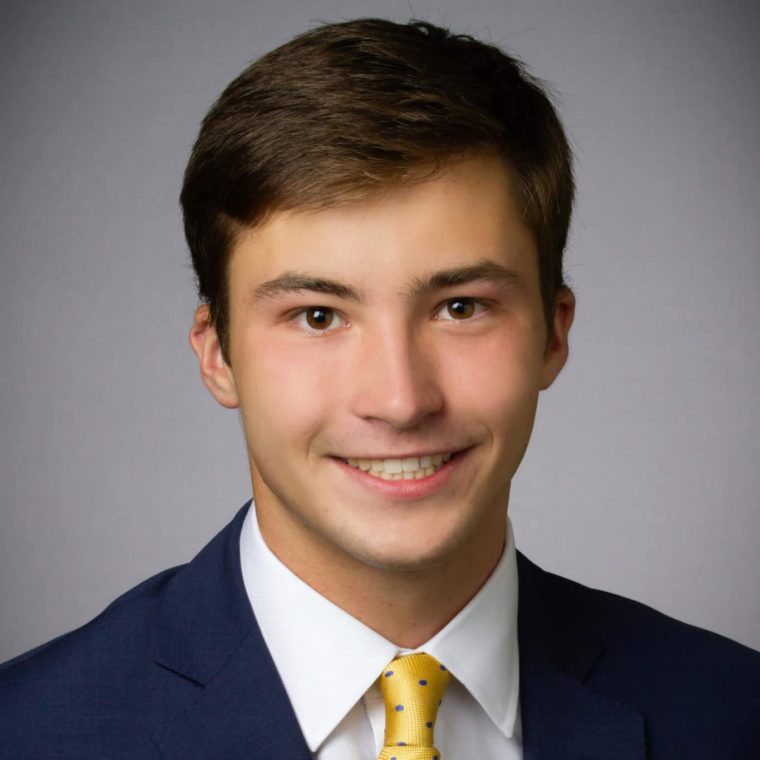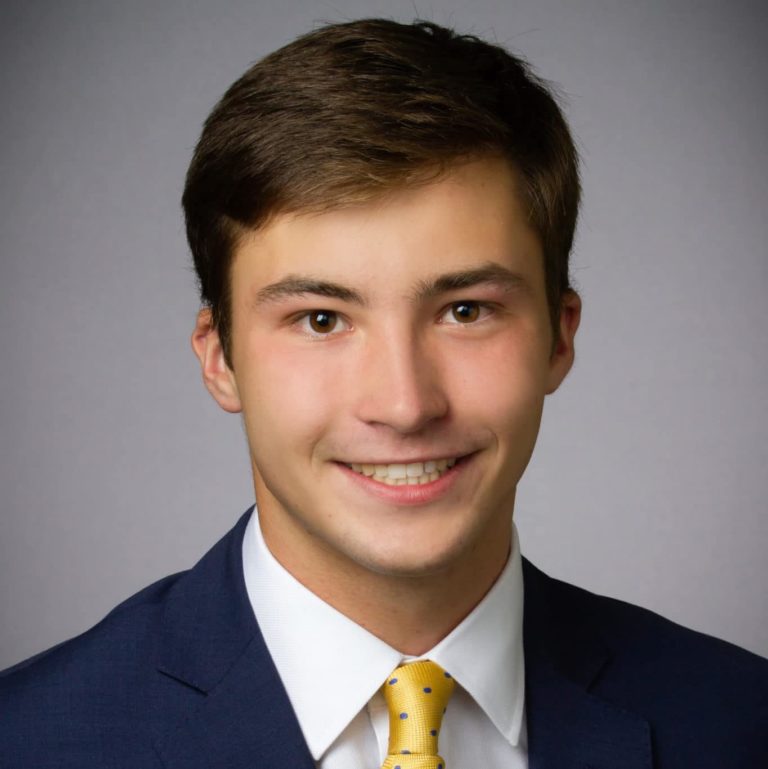 Lawton Ives
Campus: UNC
Hometown: Chapel Hill, NC
High School: NC School of Science and Math
Academic Interests: Statistics & Analytics (major), Energy & the Environment (certificate)
Extracurriculars/Hobbies:  Politics, Student Government, Venture Capital, Running, Hiking, Skiing, Cycling
Growing up in London, England and Chapel Hill, NC I was lucky enough to be exposed to a wide variety of directions I could take my future.  Many of my most formative experiences have come in the outdoors.  Whether learning how to mountain bike in the mountains of western North Carolina, hiking sections of the Pacific Crest Trail, or trekking to Everest Base Camp in Nepal, challenges presented by nature have helped me make some of my best friends and taught me how to accomplish other more meaningful goals.   I am not certain of the direction that I will ultimately take my life, but I am particularly interested in the intersection between public service and private enterprise. In my first year at UNC, I have worked to build the budding Institute of Politics on campus and laid the groundwork for a new angel-investing network.
What drew you to the Robertson Program?
I chose to come to Carolina because of the wide range of opportunities available at such a big, thriving institution.  Applying to the Robertson Program as a first-year was a phenomenal way to make this range of opportunities even bigger. The flexibility to pursue interesting summer opportunities and the chance to join a community of other driven students on both campuses is unbeatable.
How has your experience with the Robertson shaped your goals and career path? 
As someone who came into college with broad academic and personal goals, Robertson has given me the perfect set opportunities to explore academically and leave college with a strong set of personal and professional goals.  Summers in the Mississippi Delta and Yellowstone National Park pushed me out of my comfort zone in ways that would not have been possible without the financial support.  Being a "dual citizen" of both universities has allowed me to take a unique combination of classes that has given me a detailed knowledge of energy and environmental-related issues.  Most importantly, the Robertson values of purposeful leadership, intellectual curiosity, strength of character, and collaborative spirit are ever-present in scholar programming and guide my moral compass.
What has been your favorite Robertson moment so far? 
During my campus switch semester in the spring of 2019, I "tented" with a group of Duke students and attended the Duke-UNC basketball game in Cameron Indoor Stadium.  I will never forget quietly willing the Tar Heels to victory alongside another UNC scholar.  President Obama was just a few feet away.  I like to think he was quietly cheering on the Heels just like us!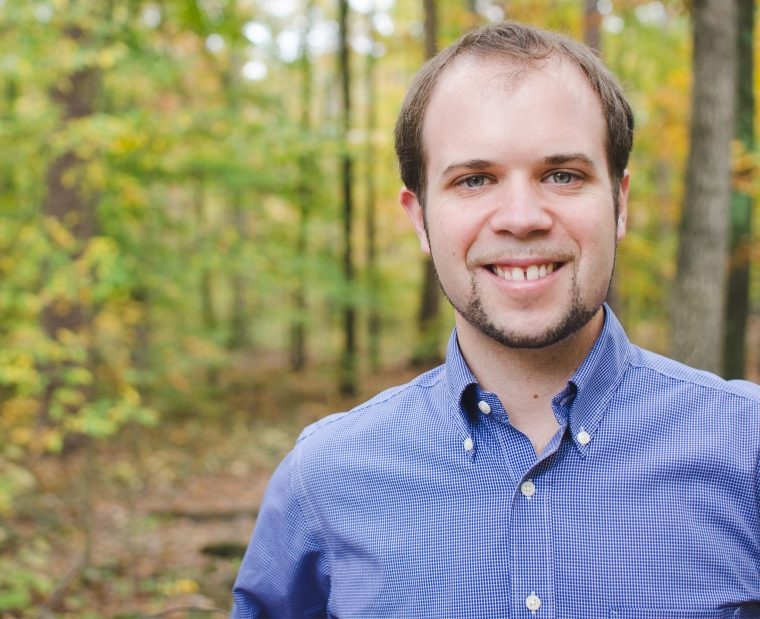 Christopher Paul
What Does the Robertson Scholars Leadership Program mean to you?
Being Robertson means being passionate, impactful, creative, and collaborative.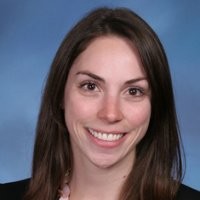 Melissa Anderson Goldberg
What Does the Robertson Scholars Leadership Program mean to you?
The Robertson Program took me down a journey of gathering more experiences in 4 years than I could have ever imagined. I co-led a team researching poverty in India, I taught science in New Orleans, I studied product design in Sweden, I took courses in economics, creative writing and jazz at UNC. Steve Jobs says that leadership and creativity are about connecting the dots: the more dots you have, the easier it is to connect them and that you can only connect the dots looking backwards, never forwards. The Robertson Program propelled me towards four years of garnering dots all over the globe. Many connections have already been made and I know that many more are yet to come.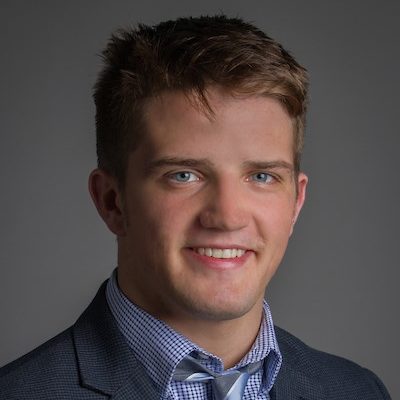 Matthew Smith
Campus: UNC
Hometown: Tulsa, OK
High School: Bishop Kelley Catholic High School
What drew you to the Robertson Program?
I considered the efforts put forth in my high school years warranted applying to merit-based scholarships along with my college search, so I happened across the Robertson Program and had to at least give it a shot. One lucky break led to another and before I knew it, I was in fact a member of the esteemed leadership program. The financial incentive was obviously ever-present in my mind as I was applying, but I did take note on the potential for growth found in meeting and interacting with other multifaceted, intelligent current members of the program that I only glimpsed on the Robertson website. This expectation took shape in reality, and it could not have been more true. The real pull and prowess of this program are the very scholars that comprise it. I am a worlds better person and much more thoughtful leader do the interactions and relationships I have built through the Robertson Scholars community.
How has your experience with the Robertson shaped your goals and career path?
The Robertson has let me flourish as a curious college student by always supporting my interests with matched coordinated effort. I will be attending UNC for one more year working for my masters in Accounting after my undergraduate degree, and the Robertson has been with me every step of the way as a guide, mentor, and confidant.
What has been your favorite Robertson moment so far?
My favorite Robertson moment had to be Community Summer as a whole. There really just isn't anything that can beat working at a zoo living with eleven other Robertsons in the city of New Orleans. The bonds I built, as well as the growth I manifested during my time there could never be replaced.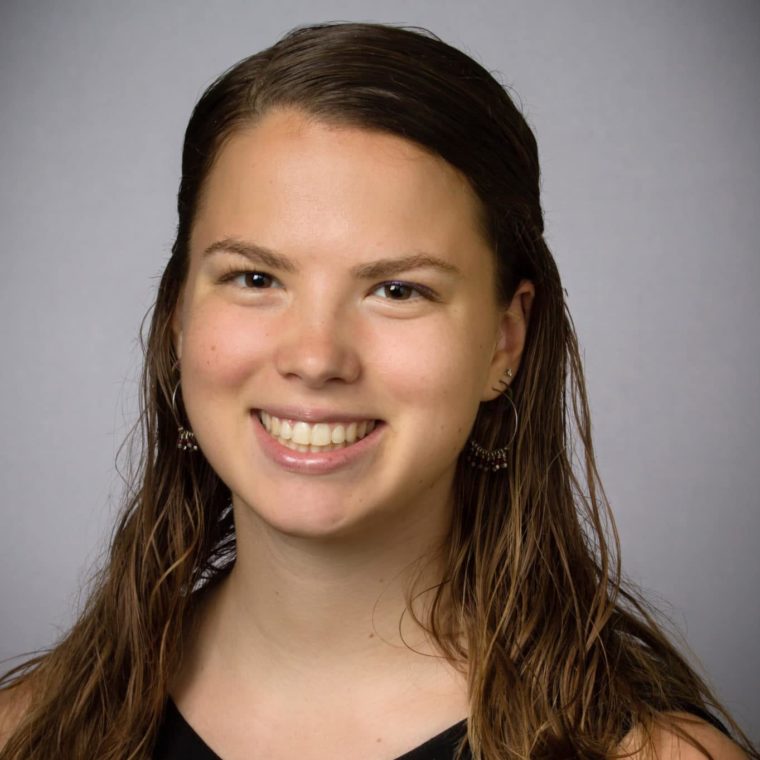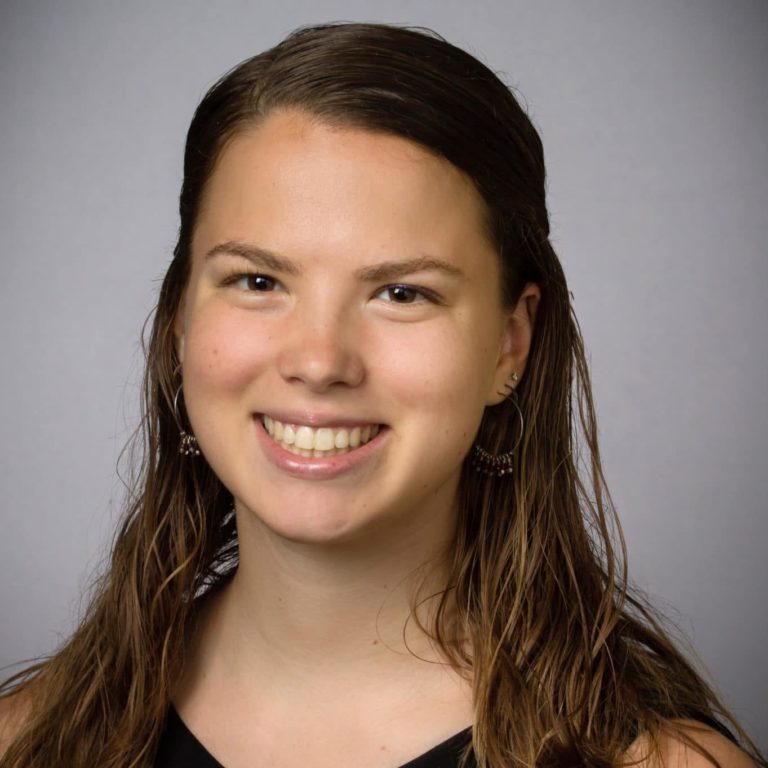 Sierra Winters
Campus: Duke
Hometown: Yadkinville, NC
High School: Forbush High School
Academic Interests: I am majoring in Cultural Anthropology at Duke with a certificate in Documentary Studies, and I am also majoring in Food Studies at UNC. I am particularly interested in documenting and influencing the eating habits of people around the world. I hope to use my career to promote mindful eating by highlighting the cultural influences of food, making foodways more ethical and environmentally sustainable, and spreading body positivity. This will likely take the form of a vegan chef or restaurant owner, combined with the offering of yoga.
Extracurriculars / Hobbies: I spent my Exploration Summer in India receiving my 500-hour yoga teacher certification, and I now teach classes at Duke. I am also president of Duke's Triathlon Club, which has given me the opportunity to travel the world for races. I love backpacking, dancing, and I am constantly cooking vegan food.
What drew you to the Robertson Program?
The intellectual capacity of Robertson Scholars demonstrated through conversations and pursuits of knowledge that occur on a day-to-day basis, combined with the confidence that they exhibit through summer programs and activities during the school year, made it clear to me that I would thrive in the Robertson Scholars environment. I especially appreciate that this program is an investment in its participants' futures, rather than a stagnant reward for their past high school achievements. I look forwards to working with the advisers and my fellow Scholars in expanding our abilities to create positive change in a variety of interdisciplinary fields, even after graduation.
How has your experience with the Robertson shaped your goals and career path?
The Robertson Program has taught me that some of the best career paths are the most unconventional. I have learned that no matter how uncommon I feel my passion is at Duke–there are not many students here who want to own a vegan restaurant for a career–it is not in the slightest an unworthy passion. I can explore the food scene, supported by interdisciplinary topics in academia, through LEAD grants, during summers, and for the rest of my life. The staff and fellow Scholars have been incredibly supportive of, and collaborative with, me.
What has been your favorite Robertson moment so far?
Colloquium was a highlight of my week the spring of freshman year. Not only did I get to see some of my closest college friends, but I also got a glimpse inside of their impressive minds. In a respectful and intellectually constructive manner, I learned about how our different backgrounds shape our beliefs and ambitions.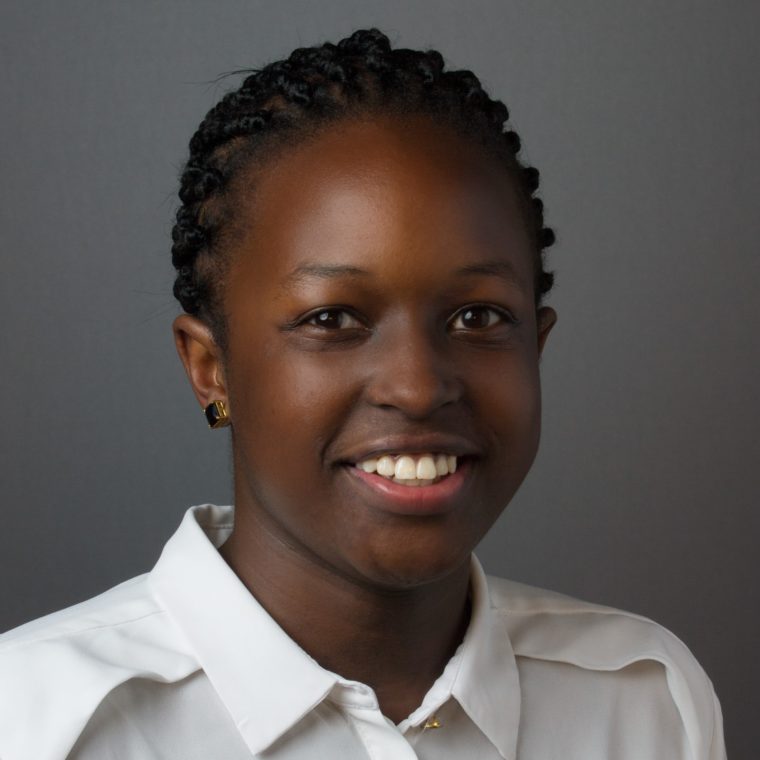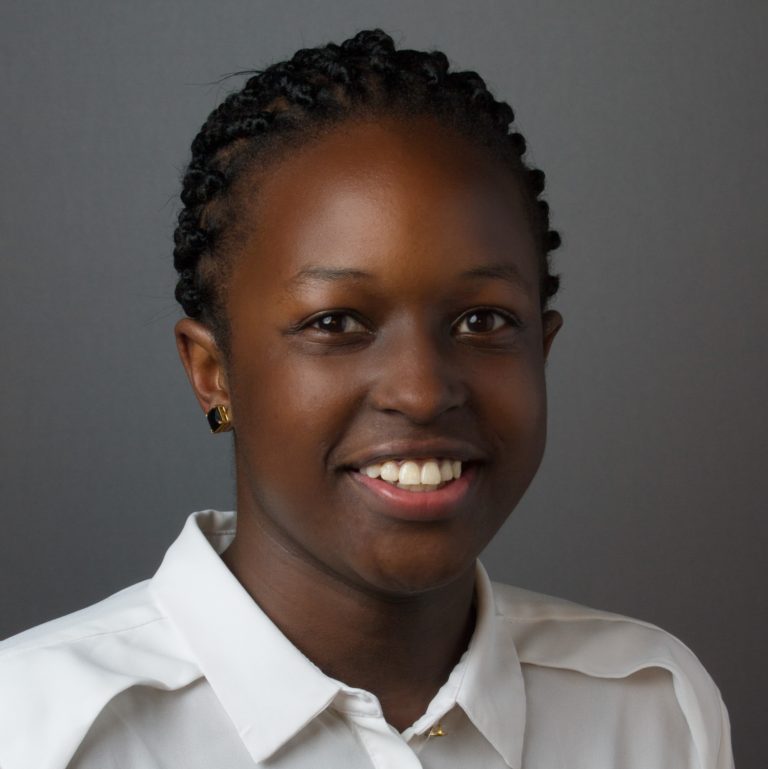 Michelle Nandi
Campus: UNC
Hometown: Nairobi, Kenya
High School: African Leadership Academy
Seeing the power of micro-finance through women in my community ensured I developed a great interest in the power of Economics and I plan to pursue this as a major. In the last two years, my love for sports has grown increasingly and my passion for both has me interested in bridging the two studies.
Ultimately I want to see sport become a viable career for the Kenyan youth and the sports sector in the country grow as a result of sustainable financial support.
I have played basketball competitively for eight years and plan on continue with the sport. I enjoy jogging as well as playing and watching soccer. If I am not on the sports field, I am most likely watching documentaries.
What drew you to the Robertson Program?
Being a lover of many things – history, math, sports … the list can go on – I have always been drawn to interdisciplinary programs and I knew this was the kind of experience I was searching for when applying to college. The Robertson Program could not be more perfect. With the opportunity to take classes at both Duke University and UNC-Chapel Hill, I am sure my ability to make new connections across my interests will be strengthened. Besides, who would not want to be part of a group of ambitious, supportive and talented young individuals?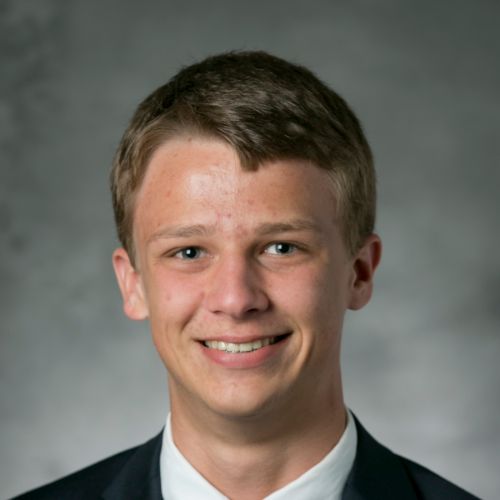 Evan Rodgers
Campus: UNC
Hometown: Columbus, OH
High School: The Wellington School
On my first day of high school, my World History teacher stopped me after class to welcome me to my new school and ask how I liked his class.  When he next asked me about my opinion on social studies as a whole, I gave him a blunt answer - I thought they were entirely pointless.  I had no interest or real respect for history, government, economics, or anything of the like.  He vowed to change my mind on the topic.  Over the next four years, his wish was completely fulfilled.  I've discovered a deep passion for learning about how humans work - their motivations, their nature, their aspirations, their interactions.  I love to study government, business, and other humanities disciplines.  While these are my primary academic interests, I have a wide range of others - from marine biology to statistics to music.  Whatever field(s) I end up studying in college, I know it will prepare me for a job that will allow me to both challenge myself intellectually and make a strong positive impact on the world.
My interests outside the classroom are at least as diverse as they are inside.  Throughout high school I ran a business selling collectible Nike and Jordan sneakers and have an irrationally large collection of my own shoes in my room. I am a huge sports fan (especially basketball and football), an avid tennis player, and am willing to take on anyone, any time, anywhere in ping-pong.  I'm a big fan of music, from Kendrick Lamar to Frank Sinatra.  I love good food of almost any variety - as my rule of thumb, the unhealthier, the better.  I have a passion for traveling and have been to 5 continents - maybe I can hit all 7 before the Robertson's done with me!  Above all, I love to spend quality time with all of my friends and family.
What drew you to the Robertson Program? As with any student currently in or seriously considering the Robertson Scholars Program, I had several great college options to choose from.  At first, it seemed coming to a final decision would be impossible.  At the end of the day, the reason I felt confident choosing the Robertson was because it provides a fundamentally different experience than any other college or scholarship program out there.  Other scholarship programs operate completely differently - they give students a financial incentive and metaphorically cordon them off in their own corner of the university to study in a special program.  However, rather than isolating its students with the sole end goal of filling its students' heads with the most knowledge, the Robertson is fully integrated in its communities: UNC and Duke, the Triangle, and the world.   The Robertson focuses on giving each scholar every opportunity two stellar universities have to offer along with a multitude of program benefits and puts them at the forefront of the aforementioned communities.  It counts on every student to become a true leader while still in college while providing the opportunities for every student to pursue literally any academic or professional interest he or she may have.  Long story short, the Robertson provides me every opportunity to become the best in my field of interest and will mold me into a highly effective leader during my four years.  Plus, I get to be a Tar Heel AND a Blue Devil - what else could I ask for?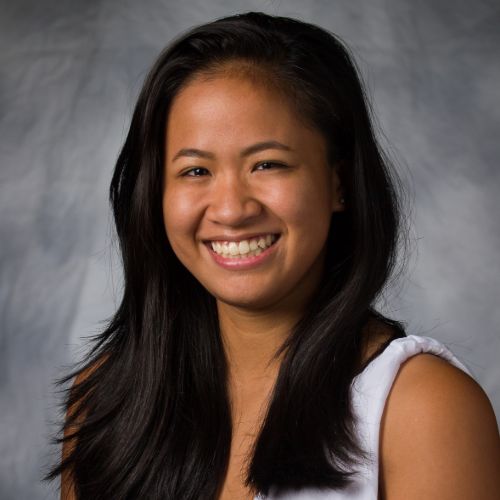 Andrea Gonzales
Campus: UNC
Hometown: Bronx, NY
High School: Hunter College High School
When I started high school, I thought I wanted to be an engineer. I started learning to code in my free time, joined the robotics team, signed up for summer computer camps. But my interests weren't restricted to that at all--I played volleyball, studied classical music theory and piano, joined the layout staff for my school's yearbook and newspaper. I knew that I wanted to work in technology, but I wasn't sure that engineering was the right job for me.
At the end of the summer of 2014, my colleague Sophie Houser and I released a video game called "Tampon Run." Blood by violence is easily accepted by society through video games and other forms of media, but when it comes to menstrual blood--something totally natural and normal--people turn away in disgust. Tampon Run is a simple game that is meant to open up a discussion about this stigma surrounding menstruation. As soon as we launched the game, it went viral overnight; since then, we've won a Tribeca Disruptive Innovation Award, a Webby Award, done numerous talks and TEDx talks, and are slated to release a book published by Harper Collins in March 2017. But aside from the shiny ribbons and awards we've racked up I've come to the decision that I don't just want to program or engineer. Tampon Run isn't just computer science, but also women's issues and social activism--I thrive at the junction of multiple areas of study, and I can't wait to see how my interdisciplinary interests can affect the world I live in.
What drew you to the Robertson Program? Whenever I speak to someone about the Robertson Program, they're blown away by how it just seems too good to be true. And every time I talk about it, I'm blown away by what the Robertson Program offers its scholars. There is no specific track a Robertson Scholar will follow--the Program trusts that we will seek experiences that will help us grow as leaders and learners and gives us access to a wealth of invaluable resources. The Robertson Scholars are a group of such intelligent, creative, and ambitious minds--not necessarily on paper, but in character. In no way am I a traditional student, and I'm very excited to be surrounded by people like me!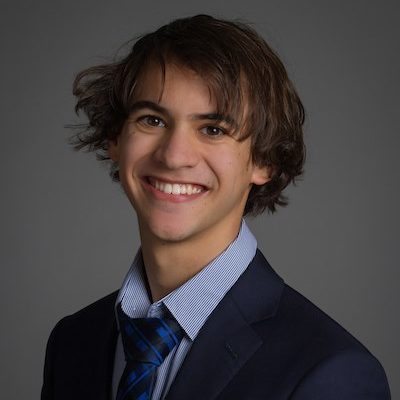 Michael Muller
Campus: UNC
Hometown: Portland, OR
High School: Westview High School
I have been working with the Mathnasium corporation and have been teaching children math for many years now. Tutoring kids and being involved in their learning processes is something that I'm passionate about and immensely grateful for. With math being a large part of my life, I'm hoping to direct that energy into the field of computer science or possibly economics. I'm consistently amazed at the extent of which computers are part of our every day lives, so I'm excited to study and discover new ways that computers can help humans.
Other activities that are a big part of my life include music and meditation. I have been playing the piano and guitar for a few years now and making or playing music with friends and loved ones gives me so much joy. Practicing mindfulness through meditation is also a passion that I have discovered in recent years that has given me perspective in my daily activities and that I intend to continue throughout my life.
What drew you to the Robertson Program? The "dual-citizenship" aspect of the Robertson Program is the most unique element of the scholarship program that really drew me in. Of all the scholarships and programs I had read about, none offered such an amazing and special opportunity to be a part of two communities on two separate campuses. The freedom that the Program gives to its scholars along with all the resources and investments that is supplied to each individual Robertson Scholar gives us all the privilege to really go out and be unafraid to find our passions.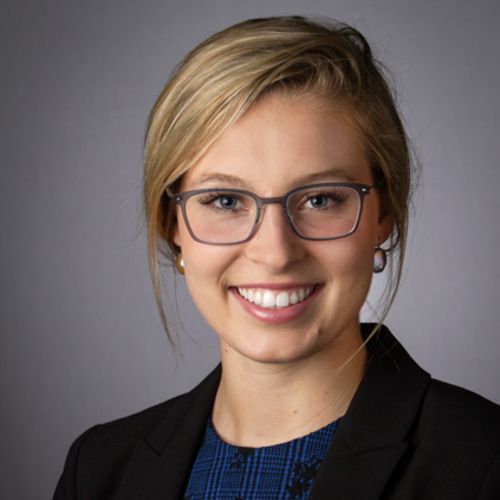 Mary Laci Motley
Campus: UNC
Hometown: Asheville, NC
High School: T.C. Roberson High School
Major: Business Administration
Minor: Entrepreneurship, Interests: Information Sciences, Gender Studies
What drew you to the Robertson Program?
I decided to attend Carolina late in the college process due to a soccer injury that altered my plans to compete at the University of Kentucky. During my freshman fall, I met several Robertson Scholars who encouraged me to apply. I jumped at the opportunity to be part of such an incredible and inspiring group of peers. I believe to whom much is given much is expected, and I am thankful to be a part of a program that enables scholars to make meaningful contributions to the world.
How has your experience with the Robertson shaped your goals and career path?
I believe in the power of generating profits for purpose and founded my company EATS2SEATS with community investment at the core. We connect local nonprofits to simple and reliable fundraising opportunities by staffing concessions in sports stadiums and providing food delivery to fans across the southeast. The support, mentorship, and network of the Robertson have been an influential and formative component of my career goals.
What has been your favorite Robertson moment so far?
I spent my Community Summer in New Orleans and worked construction for Habitat for Humanity with Duke Scholar, Zoe King. Our first week in the city, we stumbled on a traditional jazz funeral procession. The crowd filled the entire street as they gathered to celebrate the life of Tee Eva, the Praline Queen of New Orleans. Despite being strangers, we were embraced and joined the crowd to stroll with the legendary Second Line Brass Band. The moment was surreal and made me appreciate the culture and the people of New Orleans who embrace and celebrate life, no matter the circumstance.
Click on the class years below to view a complete list of Robertson Alumni graduates from each class.

Melissa Anderson - UNC 2005

Robert Beasley - UNC 2005

Rebecca Dann - Duke 2005

Randall Drain - Duke 2005

Samantha Fernandez Keys - UNC 2005

Blair Goldstein Beasley - UNC 2005

Maital Guttman - Duke 2005

Jennifer Hasvold - Duke 2005

Rachel Heath - Duke 2005

Anna Hoffius - Duke 2005

Milouska Hoppenbrouwer - Duke 2005

Heavenly Johnson - UNC 2005

Michaela Kerrissey - Duke 2005

Kavitha Kolappa - UNC 2005

Tyler McCormick - Duke 2005

Rebecca O'Doherty - UNC 2005

Christopher Paul - Duke 2005

Brittain Peck - UNC 2005

Sarah Pickle - UNC 2005

Johanna Rankin - UNC 2005

Crystal Sanders - Duke 2005

Christopher Scoville - Duke 2005

Elisabeth Stratton - UNC 2005

Ann Webb - UNC 2005

Colleen Webb - Duke 2005

Pauline Wong - Duke 2005
Charles Adams - UNC 2006

Youngji Bae - Duke 2006

Andrew Chao - Duke 2006

Lauren Chapalee - UNC 2006

Rebecca Chasnovitz - UNC 2006

Ian Faerstein - Duke 2006

Jared Fish - Duke 2006

Olivia Fu - Duke 2006

Kimberly Hayez - Duke 2006

Marina Kukso - Duke 2006

Paula Kweskin - UNC 2006

Mark Laabs - UNC 2006

Lindsey Luebchow - Duke 2006

Pema McGuinness - Duke 2006

Abigail Michaud - UNC 2006

Dinushika Mohottige - Duke 2006

Matthew Mullane - UNC 2006

Charlie Odom - UNC 2006

Seema Parkash - Duke 2006

Daniel Potucek - Duke 2006

Paul Sarker - Duke 2006

Nicholas Shepard - UNC 2006

Timothy Stallmann - UNC 2006

Caitlin Steiger - UNC 2006

Melissa Thompson - Duke 2006

Jan-Willem van der Vaart - UNC 2006

Dalia Wimberly - UNC 2006

Adam Yoffie - Duke 2006

Yaolin Zhou - Duke 2006

Mary Zimmerman Armstrong - UNC 2006
Priscilla Baek - Duke 2007

Lauren Berkowitz - UNC 2007

Emmie Chen - UNC 2007

Aminah Cherry - Duke 2007

Nirmala Chilamkurti - Duke 2007

Meenakshi Chivukula - Duke 2007

Victoria Daskalova - Duke 2007

Amber Dunn - UNC 2007

Dimia Fogam - UNC 2007

Lauren Fryer Lewis - Duke 2007

Kelly Geoghegan - UNC 2007

Christopher Glazner - UNC 2007

Michael Hachey - UNC 2007

Sara Hohenstein - UNC 2007

Christopher Keuler - UNC 2007

Daniel Kimberg - Duke 2007

Carly Knight - Duke 2007

William Krueger - UNC 2007

Jordan Kyle Cohen - Duke 2007

Sorell Massenburg - UNC 2007

Boris Nikolic - Duke 2007

Timothy Reilly - UNC 2007

Catarina Rivera - Duke 2007

Sarah Rutstein - Duke 2007

Kate Scott - UNC 2007

Naike Swai - Duke 2007

Van Tran - UNC 2007

Madeline Walter - UNC 2007

Emily Williams - UNC 2007

Daniel Willner - UNC 2007

Eli Wolfe - Duke 2007
Shemane Amin - Duke 2008

David Beard - UNC 2008

Katherine Bishop - UNC 2008

Jessica Carter - UNC 2008

Andrew Cunningham - Duke 2008

Andrew Davis - UNC 2008

Carson Denny - Duke 2008

Lena Eastin - UNC 2008

Leisha Elmore - Duke 2008

David Fiocco - Duke 2008

Christopher Hopper - Duke 2008

Christopher Kearns - UNC 2008

Rachael Massell - Duke 2008

Cooper McGuire - UNC 2008

David Morgenstern - Duke 2008

Tanisha Palvia - UNC 2008

James Richman - Duke 2008

Jacobus Schutte - UNC 2008

Alexander Snider - UNC 2008

Scott Spillman - UNC 2008

Kelly Stephenson - Duke 2008

Evan Stewart - Duke 2008

Michael Thomson - Duke 2008

Hudson Vaughan - UNC 2008

Anthony Watkins - UNC 2008

Caroline Whistler - Duke 2008

Elizabeth Woltz - UNC 2008

Alice Zimmermann - Duke 2008
Thomas Allin - UNC 2009

Nicholas Anderson - UNC 2009

Susie Baker - UNC 2009

Aja Barretto - UNC 2009

Annalee Bloomfield - UNC 2009

Vivek Chilukuri - UNC 2009

Pablo Friedmann - UNC 2009

Varun Gokarn - Duke 2009

Chamindra Goonewardene - Duke 2009

Lauren Graham - Duke 2009

Daniel Hall - UNC 2009

Matthew Hameroff - Duke 2009

Antonia Helbling - Duke 2009

Kristin Hill - UNC 2009

Daniel Houghton - Duke 2009

Kevin Hwang - Duke 2009

Chetan Jhaveri - Duke 2009

David Kreis - UNC 2009

Lily Kurland - UNC 2009

Samson Mesele - Duke 2009

Daniel Miller - Duke 2009

Gabriella Miyares - UNC 2009

Rachel Northeim - Duke 2009

Kiley Robbins - UNC 2009

Kelsey Schueler - UNC 2009

David Sneed - UNC 2009

Robert Stephens - UNC 2009

John Wulsin - UNC 2009

Aaron Yorke - UNC 2009

 
Yousef AbuGharbieh - Duke 2010

Michael Althoff - UNC 2010

Eric Anderson - UNC 2010

Lisa Bevilacqua - Duke 2010

Anjali Bhatia - Duke 2010

David Brunell - Duke 2010

Michael Chomat - UNC 2010

Kassandra Collins - UNC 2010

Debra Dixon - UNC 2010

Stefanie Feldman - Duke 2010

Faraaz Khan - UNC 2010

Ashley Klein - UNC 2010

Nabil Kleinhenz - UNC 2010

Nandini Kumar - Duke 2010

Desire? LaGrappe - UNC 2010

Joseph Long - UNC 2010

Emily Matthews - Duke 2010

Andrew Pickens - Duke 2010

Margaret Salinger - UNC 2010

Anthony Sawyer - UNC 2010

Norman Seay - Duke 2010

Daron Sharps - UNC 2010

Jacqueline Sims - Duke 2010

Lena Skandera - Duke 2010

Julia Straka - Duke 2010

Christopher Straka - Duke 2010

Meghan Williams - UNC 2010

Jaron Wilson - UNC 2010

Bernard Worthy - UNC 2010

Amy Zhang - UNC 2010

Andrew Zonderman - Duke 2010
Rebecca Agostino - Duke 2011

Ryan Brown - Duke 2011

Nicholas Bruns - Duke 2011

Christopher Clayman - UNC 2011

Meryl Colton - Duke 2011

Kathryn Cox - Duke 2011

Natalie Crimp - Duke 2011

Elizabeth Deane - UNC 2011

Alexis Dennis - UNC 2011

Christopher Edelman - Duke 2011

Allison Hayes Shulman - UNC 2011

Paul Hiatt - UNC 2011

Andrew Hollar - Duke 2011

Alexander Janes - UNC 2011

Amanda Johnson - UNC 2011

Alexander Kilkka - UNC 2011

Joy Lampkin - Duke 2011

Harrison Lee - Duke 2011

Kyeongho Lee - Duke 2011

Robyn Levine - UNC 2011

Lauren Linn (Strickland) - Duke 2011

Marc Loeffke - Duke 2011

Leah Milbauer - Duke 2011

Carissa Mueller - Duke 2011

Matthew Price - UNC 2011

Charles Sellew - UNC 2011

Nikhil Taneja - Duke 2011

Timothy Thomson - Duke 2011

Sofia Wilson - UNC 2011
Jess Adams - UNC 2012

Tess Arrowood - UNC 2012

Kenneth Barshop - UNC 2012

Michael Bernert - Duke 2012

Eric Butter - UNC 2012

Taylor Clarke - Duke 2012

Matthew Clayton - Duke 2012

Lina Colucci - Duke 2012

Erin Convery - Duke 2012

Stella Dee - Duke 2012

Jiakun Ding - UNC 2012

Benjamin Elkind - UNC 2012

Nari Ely - UNC 2012

Joshua Evans - Duke 2012

Caroline Fairchild - Duke 2012

Kimberley Goffe - Duke 2012

Kenneth Haisfield - UNC 2012

John Harris - UNC 2012

Hilary Henry - Duke 2012

Harrison Hines - Duke 2012

Alison Kibbe - Duke 2012

Spencer Kuzmier - UNC 2012

Mitchell Long - UNC 2012

Amir Chireh Mehr - Duke 2012

Emma Miller - Duke 2012

Megan Morikawa - Duke 2012

David Mulcahy - UNC 2012

Jennifer Paxton - UNC 2012

Braveen Ragunanthan - Duke 2012

Brent Sodman - Duke 2012

Austin Stanion - UNC 2012

Andrew Sugrue - UNC 2012

Zachary Tracer - Duke 2012

Margo Werner - Duke 2012

Caitlin Williams - UNC 2012

Oliver Wilson - Duke 2012

Nina Woolley - Duke 2012

Jung-yi Yoo - UNC 2012

Cameron Zohoori - Duke 2012

Jennifer Zwilling - Duke 2012

 
Thomas Atwood - Duke 2013

Benjamin Barge - UNC 2013

Victoria Bennett - UNC 2013

Ryan Boone - Duke 2013

Jessica Broadus - UNC 2013

Jared Ciervo - UNC 2013

Travis Crayton - UNC 2013

Hunter Douglas - Duke 2013

Dylan Flye - Duke 2013

Ivanna Gonzalez - UNC 2013

Joseph Holthaus - UNC 2013

Antonio Jackson - UNC 2013

Jeremy Knight - UNC 2013

Christine Larson - Duke 2013

Jacob Lerner - UNC 2013

Elizabeth Lynch - UNC 2013

Omar Nazzal - Duke 2013

Caitlin Nettleton - UNC 2013

Jagir Patel - UNC 2013

Yesenia Pedro Vicente - UNC 2013

Alec Rubenstein - UNC 2013

Claire Sorrenson - Duke 2013

Jocelyn Streid - Duke 2013

Alpha Tessema - Duke 2013

Alexis Wallace - Duke 2013

Victoria Wilmarth - Duke 2013

Lauren Winston - UNC 2013

Kelsey Woodford - Duke 2013

Joyce Yu - Duke 2013
Alexander Belokopytov - UNC 2014

Fabio Berger - Duke 2014

Alexander Bloedel - Duke 2014

Jakob Blomqvist - Duke 2014

Margaret Brown - UNC 2014

Abigail DelBianco - Duke 2014

Dagbedji Fagnisse - Duke 2014

Erika Ferguson - UNC 2014

Kaitlin Gladney - Duke 2014

John Guzek - UNC 2014

Samantha Halle - UNC 2014

Andrew Hanna - Duke 2014

Ajeet Hansra - Duke 2014

Edward Hardison - UNC 2014

Anne Helbling - Duke 2014

Eli Hornstein - UNC 2014

Jordan Imbrey - UNC 2014

Soroush Jamali Pour - Duke 2014

Erika Keil - UNC 2014

Joyce Lau - Duke 2014

Aaron Lutkowitz - UNC 2014

Paula Munoz - UNC 2014

Blake O'Connor - UNC 2014

Wilson Orr - UNC 2014

Thomas Pendlebury - UNC 2014

Jacob Robinson - Duke 2014

Stefanie Schwemlein - UNC 2014

Robert Sewell - UNC 2014

Caitilin Slattery - Duke 2014

Daniel Strunk - Duke 2014

Colin Ward - UNC 2014

Katherine Zhang - Duke 2014

Angela Zhou - Duke 2014

Alex Zhu - Duke 2014

Zachary Zlatev - UNC 2014

 
Ademide Adelekun - UNC 2015

Elisa Berson - Duke 2015

Scott Boisvert - Duke 2015

Julian Borrey - Duke 2015

John Bowman - Duke 2015

Oren Bukspan - Duke 2015

James Collier - UNC 2015

Brenna Cukier - UNC 2015

Spencer Dahl - Duke 2015

Emelyn Erickson - Duke 2015

Kristen Fajgenbaum - UNC 2015

Jillian Froelick - UNC 2015

Benjamin Hatt - Duke 2015

Minhazul Islam - Duke 2015

Katie Jordan - UNC 2015

Woojin Kim - Duke 2015

Caroline Leland - UNC 2015

Paige Muggeridge - Duke 2015

Minali Nigam - Duke 2015

Gift Nyikayaramba - Duke 2015

Anthony Olawo - Duke 2015

Oluwatobi Runsewe - Duke 2015

Sarah Rutherford - UNC 2015

Loren Shealy - UNC 2015

Jefferson Sinclair - UNC 2015

Lydia Thurman - Duke 2015
Oladimeji Abidoye - Duke 2016

Rachel Anderson - Duke 2016

Anne Baldridge - UNC 2016

James Band - Duke 2016

Joseph Calder - UNC 2016

Thomas Cole - Duke 2016

Jamal Edwards - Duke 2016

Nadine Goldberg - Duke 2016

Pranav Haravu - UNC 2016

Alexander Hatzis - UNC 2016

Fedor Kossakovski - UNC 2016

Joanna Kuang - Duke 2016

Abdul Latif - Duke 2016

Daniel Lim - Duke 2016

Evan Lumbra - UNC 2016

Sowmya Mangipudi - UNC 2016

Tafadzwa Matika - UNC 2016

Mehul Mehta - Duke 2016

Grace Oathout - Duke 2016

Nicholas Orr - Duke 2016

Thomas Prebble - Duke 2016

Jacob Rosenberg - UNC 2016

Sophia Sennett - Duke 2016

James Smith - UNC 2016

Devin Solanki - Duke 2016

Michael Yang - Duke 2016
Graham Adeson - Duke 2017

Chinyere Amanze - Duke 2017

Sebastian Baquerizo - Duke 2017

Brent Comstock - UNC 2017

Brooke Davies - UNC 2017

Rachel Freedman - Duke 2017

Abigail Gay - UNC 2017

Virginia Hamilton - UNC 2017

Kassra Homaifar - UNC 2017

Shafali Jalota - UNC 2017

Frank Jiang - UNC 2017

Nicolas Johnston - Duke 2017

Kasper Kubica - Duke 2017

Monique LaBorde - UNC 2017

Jaclyn Lee - UNC 2017

Tierney Marey - Duke 2017

Charlotte McKay - Duke 2017

Anna Mukamal - Duke 2017

Jacob Olliffe - UNC 2017

Oluwasanmi Oyenuga - Duke 2017

Sumeet Patwardhan - UNC 2017

Arjun Raghavan - UNC 2017

Christina Schmidt - Duke 2017

David Spratte - UNC 2017

Sofia Stafford - Duke 2017

Nathaniel Wagner - UNC 2017

Elizabeth Wilson - Duke 2017

Maimuna Abdi Yussuf - Duke 2017

Griffin Unger - UNC 2017
Maire Amlicke - UNC 2018
Persis Bhadha - UNC 2018
Mark Botterill - Duke 2018
Benjamin Boyd - UNC 2018
Claire Boyd - UNC 2018
Henrik Cox - Duke 2018
Mark Dawson - UNC 2018
Andre Domingues - UNC 2018
Maya Durvasula - Duke 2018
Diandra Dwyer - UNC 2018
Emily Goldstein - UNC 2018
Alexandra Hehlen - UNC 2018
Philip Howard - UNC 2018
Samuel Kelly - Duke 2018
Matthew King - Duke 2018
Amy Kramer - Duke 2018
Olivia Linn - UNC 2018
Sydney McAuliffe - Duke 2018
McNair Mitchener - UNC 2018
Michelle Moffa - Duke 2018
Philip Moss - Duke 2018
Ian Muriuki - UNC 2018
Rimel Mwamba - UNC 2018
Joshua Neuhaus - Duke 2018
Ogechi Onyeka - Duke 2018
Chinmay Pandit - Duke 2018
Chandler Phillips - Duke 2018
Eric Qian - UNC 2018
Caitlin Rosica - UNC 2018
Miriam Singer - Duke 2018
Jackson Skeen - Duke 2018
Kya Sorli - Duke 2018
Andrew Tan-Delli Cicchi - Duke 2018
Griffin Unger - UNC 2018
Elizabeth Zhao - Duke 2018
Sreya Atluri - UNC 2019
Catalina Berenblum - UNC 2019
Lucy Best - UNC 2019
Chaya Bhat - Duke 2019
Jermaine Bryant - UNC 2019
Forest Cummings - Taylor - Duke 2019
George Elliott - Duke 2019
Harold Elworthy - Duke 2019
Scott Emmons - UNC 2019
Kyra Exterovich-Rubin - UNC 2019
Henry Feng - Duke 2019
Brady Gilliam - UNC 2019
Hannah Godefa - Duke 2019
Wilson Guo - UNC 2019
Eliza Harrison - UNC 2019
Ian Jaffe - Duke 2019
Kalif Jeremiah - Duke 2019
Erica Johnson - UNC 2019
Mia King - Duke 2019
Brennan Lewis - UNC 2019
Noah Mancuso - UNC 2019
Rachael Murtagh - Duke 2019
Ray Pryor - Duke 2019
Vishnu Ramachandran - UNC 2019
Elina Rodriguez - UNC 2019
Rohan Sheth - Duke 2019
Myla Swallow - Duke 2019
Kat Tan - UNC 2019
Daya Uppal - UNC 2019
Trey Walk - Duke 2019
Elle Winfield - Duke 2019