Twenty years after the first Scholars class entered the Program, our alumni community now includes over 450 Scholars. These individuals are leaders all over the word, living out the values of the Robertson Program as teachers, bankers, doctors, poets, lawyers, consultants, scientists, researchers, and entrepreneurs. They remain a vibrant and committed group of individuals who make significant contributions to the communities around them.
What Does the Robertson Scholars Leadership Program mean to you?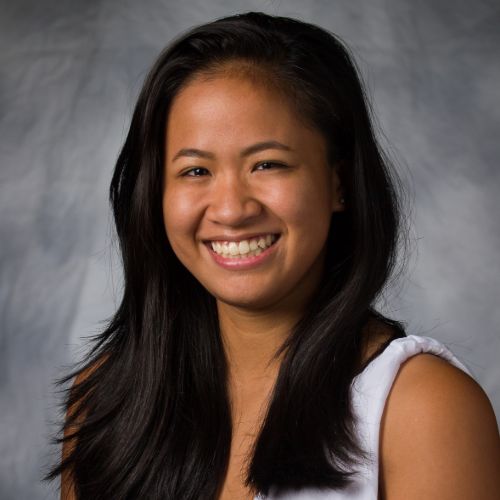 Andrea Gonzales
Campus: UNC
Hometown: Bronx, NY
High School: Hunter College High School
When I started high school, I thought I wanted to be an engineer. I started learning to code in my free time, joined the robotics team, signed up for summer computer camps. But my interests weren't restricted to that at all--I played volleyball, studied classical music theory and piano, joined the layout staff for my school's yearbook and newspaper. I knew that I wanted to work in technology, but I wasn't sure that engineering was the right job for me.
At the end of the summer of 2014, my colleague Sophie Houser and I released a video game called "Tampon Run." Blood by violence is easily accepted by society through video games and other forms of media, but when it comes to menstrual blood--something totally natural and normal--people turn away in disgust. Tampon Run is a simple game that is meant to open up a discussion about this stigma surrounding menstruation. As soon as we launched the game, it went viral overnight; since then, we've won a Tribeca Disruptive Innovation Award, a Webby Award, done numerous talks and TEDx talks, and are slated to release a book published by Harper Collins in March 2017. But aside from the shiny ribbons and awards we've racked up I've come to the decision that I don't just want to program or engineer. Tampon Run isn't just computer science, but also women's issues and social activism--I thrive at the junction of multiple areas of study, and I can't wait to see how my interdisciplinary interests can affect the world I live in.
What drew you to the Robertson Program? Whenever I speak to someone about the Robertson Program, they're blown away by how it just seems too good to be true. And every time I talk about it, I'm blown away by what the Robertson Program offers its scholars. There is no specific track a Robertson Scholar will follow--the Program trusts that we will seek experiences that will help us grow as leaders and learners and gives us access to a wealth of invaluable resources. The Robertson Scholars are a group of such intelligent, creative, and ambitious minds--not necessarily on paper, but in character. In no way am I a traditional student, and I'm very excited to be surrounded by people like me!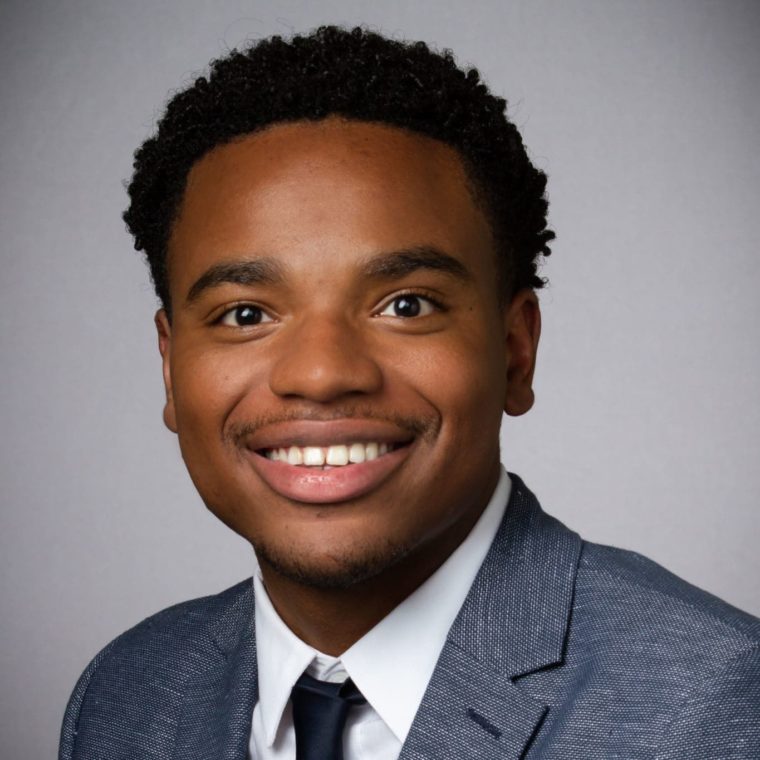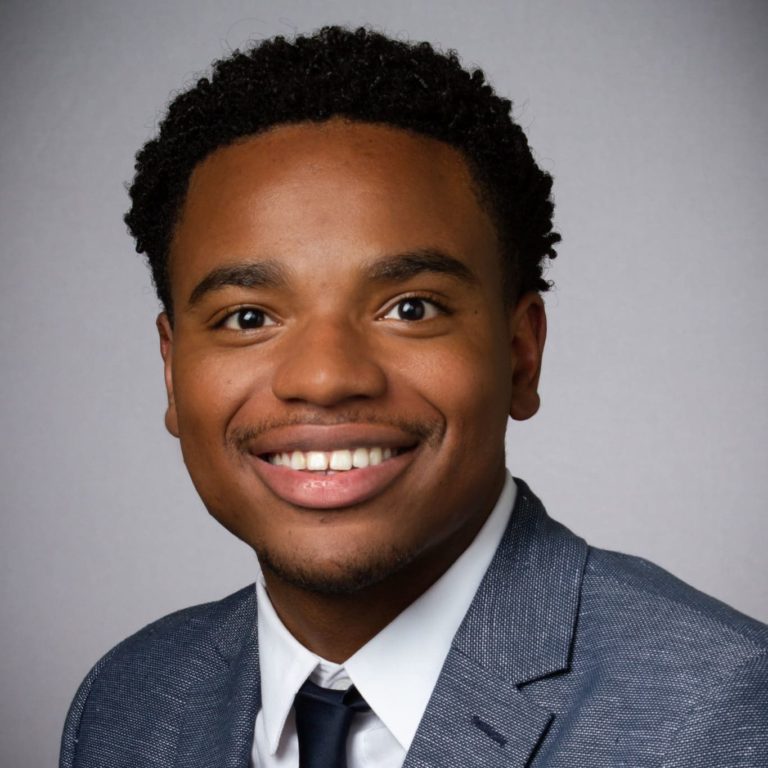 Aaron Williams
Campus: UNC
Hometown: Raleigh, NC
High School: Franklin County Early College
Steve Jobs, one of the most influential people in the technological world, speaks about the importance of standing at the intersection of humanities and science in Steve Jobs by Walter Isaacson. That is where I want to be, and that is where I find myself when I think about the changing nature of my academic interests. When I was younger, I found comfort in the world of reading literature. As a young boy, the written words of a page taught me all the shades of the world while also nurturing a writer in me. Reading and writing were my favorite companions from my adolescent to teenage years, but science mesmerized me and gave me a purpose that I will always hold on to. While attending the local community college in my county, I met a professor who brought my interest to a focal point. It was because of this professor that I fell in love with Cellular and Molecular Biology. I am a believer in the idea that we have an innate responsibility to question everything. I am currently interested in majoring in Biology and Neuroscience with a minor in African American Studies. After undergraduate school, I would like to pursue a career as an orthopedic surgeon. While this may be my current trajectory, I easily fall in love with subjects, so I wouldn't be surprised if I became the first astronaut/ orthopedic surgeon. I also would like to translate and incorporate my passion for literature and writing into my future career. I just want to do everything I love while also helping or benefiting those around me. Altruism is the value that I live by, so I can't think of any other better way to live my life than by dedicating it to the betterment of others.
As far as my extracurricular activities read, I am a simple person. I have dedicated most of my high school career to improving academic conditions for students. I was a part of the School Improvement Club for three years. I also acted as President of my school's National Honor Society chapter. I look at the National Honor Society as my proudest achievement because I felt like our efforts to improve the community were profound. During my presidency, we sponsored a family for Christmas and raised more money for the school than ever before. The Christmas sponsorship meant a lot to many members. It was a life-changing experience. Along with National Honor Society, I also served as Vice President for Vance-Granville Community College's Student Government Association (SGA). As Vice President, I worked closely with other members of SGA to create and coordinate student activities. It was an amazing leadership experience as we became the voice for all campuses spanning four different counties. One high school experience that greatly affected my career endeavors was job shadowing at Duke University Hospital. It gave me a hands-on experience and allowed me to truly dive into the atmosphere and environment of the hospital. During my freshman and sophomore year, I was highly involved with volunteer work at the Duke Regional Hospital, but this experience allowed me to absorb real surgery and professional advice from amazing doctors. No words can describe how undoubtedly grateful I am for all of my experiences, and I know they are only the beginning.
What drew you to the Robertson Program?The thing that drew me to the Robertson Program was this idea of "dual-citizenship". As a scholar I would have the best of both worlds. I would have access to not only one, but two amazing universities and their resources. As I gathered more information on the Robertson Program, I learned that its benefits were something no other program could offer. We would be forced into situations where we would be challenged, supported, and pushed past limits we thought we had. As if this wasn't enough, when I arrived for finalist weekend, I was stunned. As the weekend progressed, I found myself surrounded by peers who were, in my opinion, doing more than I ever imagined. Being around these amazing individuals made me want to do more and gave me the belief that I could. This is something that I know the Robertson Program can continue to offer through its current scholars and alumni.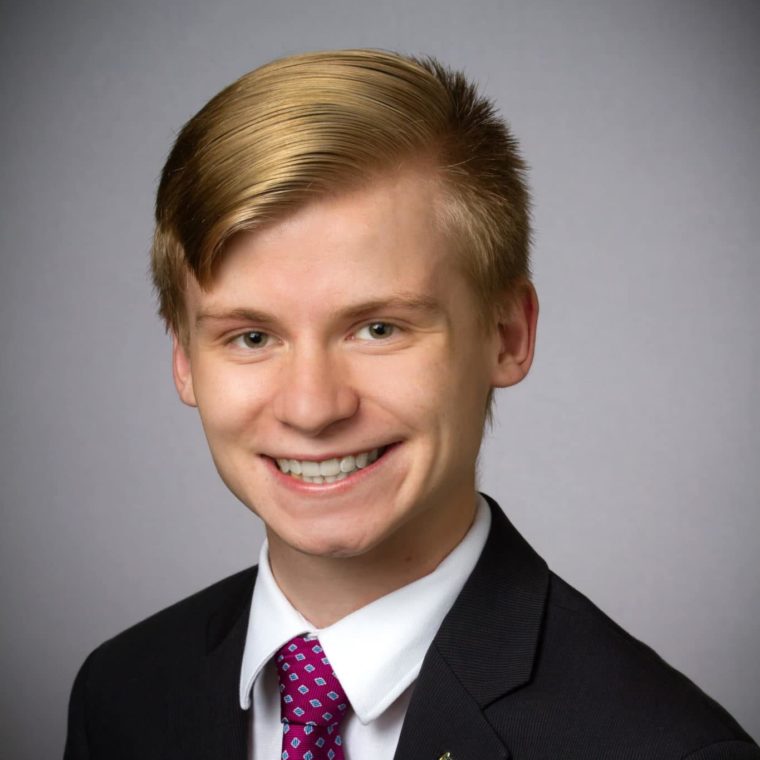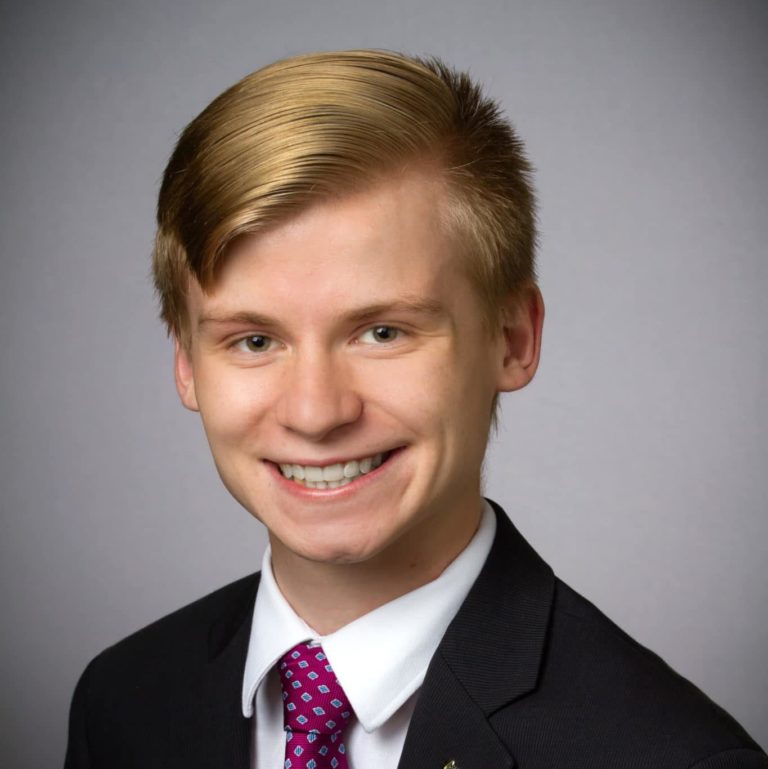 Weston Lindner
Campus: Duke
Hometown: Liberty Township, OH
High School: Lakota East High School
What drew you to the Robertson Program?
I saw in the Robertson Program a shared educational philosophy and a belief in the constant need to give back. When I listened as the Program Director verbalize the mission and values of the program at finalist weekend, I discovered that we share a lot of bedrock principles. The Robertson Program, like me, believes that in order to learn, one must be constantly push oneself out of their comfort zone and be challenged. The Robertson Program, like me, believes in the power of diversity. The Robertson Program, like me, believes in the necessity of giving back and being a lifelong contributor to society.
How has your experience with the Robertson shaped your goals and career path?
Every day, the Robertson Program reminds me to be humble. I've also learned to not think too much about the future in specific terms; almost no one predicts in college where they'll be ten years after graduation, and most college graduates do not work in areas directly related to their major. Opportunities like Community Summer and ReThink have pulled me in many directions and reminded me that no matter what I may plan for or expect, new opportunities will arise. It is enough to know generally the impact I want to see and the social problems I want to work on; then, I can be flexible in achieving them as I learn more and am exposed to new opportunities.
What has been your favorite Robertson moment so far?
My favorite Robertson experience has been my campus switch semester at Carolina. As someone who went to public school for 13 years before college, there was something refreshing and energizing about spending some time at a public college. Duke and Carolina are each diverse in different ways. Duke pulls similarly oriented people from many different populations, whereas UNC mostly pulls a more complete cross section of one population (North Carolina). The fact that I am able to experience and harness both institutions really is one of the top perks of the program.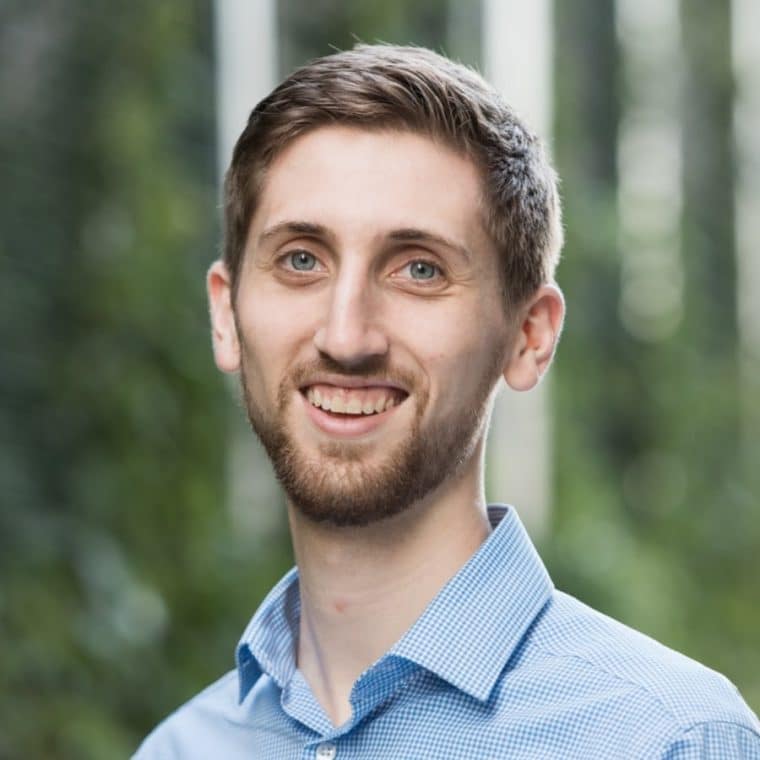 Aaron Lutkowitz
What Does the Robertson Scholars Leadership Program mean to you?
It means having a fluid identity, in all the best ways. You learn to belong on two campuses that think they're incredibly different (in some ways, they are; in more ways, they're not). You learn to attempt (and sometimes fail) to be a respectful and curious citizen of the world by travelling, where identities swirl into being a tourist versus a semi-permanent local, being a student versus being a professional, being apprehensive of the unknown versus fearful of missing out on a transformational moment.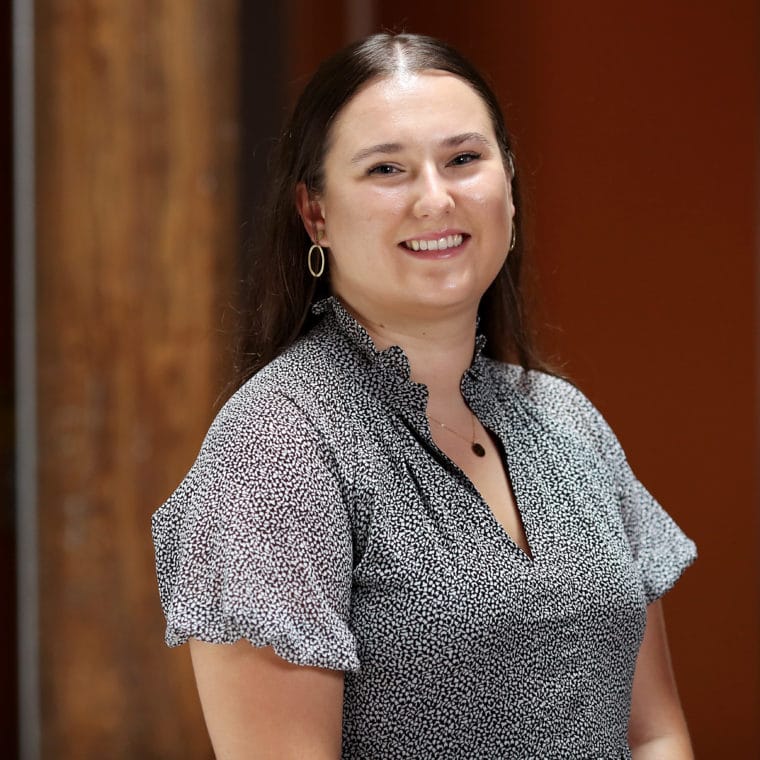 Jemma Frost
Campus: UNC
Hometown: Sydney, Australia
High School: Ravenswood School for Girls
What drew you to the Robertson Program?
I was drawn to the Robertson Program, not because of the monetary value but the spirit of the program and its mission to support future leaders in making a contribution to the world. When I went to a presentation at UNSW in Australia, I knew then that all I ever wanted was to become a Robertson. The presentation of incredible experiences and the close-knit community of leaders seemed like the opportunity of a lifetime.
How has your experience with the Robertson shaped your goals and career path?
Being surrounded by scholars who are constantly pushing the boundaries of what I thought possible in terms of making change and achieving goals has pushed me to look for opportunities to get out of my comfort zone. It has increased my personal and career goals further than I would have before. I'm studying Biomedical Engineering with a focus in rehabilitation engineering and I am particularly interested in prosthetics and medical devices. I am constantly inspired by the innovation in this world and especially by creative solutions that benefit under-served populations.
What has been your favorite Robertson moment so far?
My favorite experience so far in the Robertson program was the 2020 Spring Break NOLS trip. Eight of us scholars and four NOLS instructors spent a week camping, hiking, cooking, and rappelling in the canyons of Utah. It was an amazing environment and group of people who were open to challenge themselves and enjoyed getting to know each other. I learned a lot about leadership and teamwork as well as had time to disconnect from the "real world" which was especially great as the COVID pandemic had just reached America.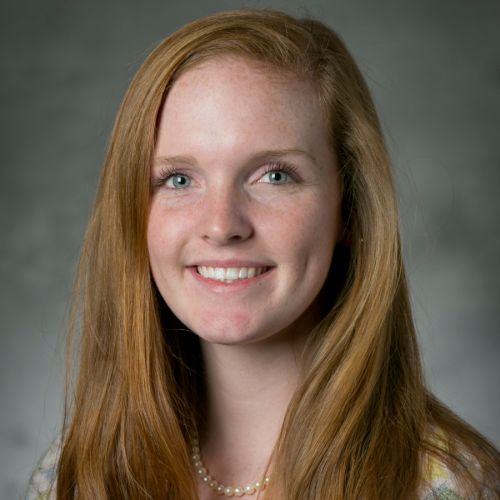 Annie Dempsey
Campus: UNC
Hometown: Kennesaw, GA
High School: Blessed Trinity Catholic High School
I was always the little kid who loved to help others. I knew I was destined to serve, but did not know how until my freshman year of high school when I became the State Director of Georgia Miss Amazing, a non-profit organization that provides opportunities for women with disabilities to build confidence and self-esteem. After wanting to volunteer for the Miss Amazing Pageant, I found out that the organization did not exist in my home state of Georgia. So what did my fourteen-year-old self do? Convince my parents to let me take on the responsibility of starting the 501c3 program as director, of course! My passion for Miss Amazing stems from the desire to provide girls with disabilities the same opportunities that I once took for granted. Although serving as a Miss Amazing State Director for four years has taught me countless lessons in business, team leadership, and time management, the greatest lessons have come from the incredible women of Miss Amazing who inspire me everyday to be the best version of myself. I hope to continue to play a role in disability advocacy and policy while also studying the business side of non-profits at UNC.
I have also enjoyed playing volleyball for seven years, contributing to student government, and volunteering as staff at Hugh O'Brien Youth Leadership for high school sophomores. At UNC and Duke, I plan on exploring the ways I can incorporate business into making a concrete difference in the lives of others.
What drew you to the Robertson Program? Before I arrived at Robertson Finalist Weekend, two separate Robertson scholars had already called me telling me how they were excited that I was coming to campus. The Robertson is not just a scholarship, and not even just a leadership program. It is a genuine family that strives to offer the right tools for scholars to truly change their communities. There is no other program in the world that will allow me to explore the world to such great lengths and experience the academics and camaraderie of two incredible universities. The Robertson Program pushes me beyond my comfort zone, and I am honored to form my undergraduate experiences within it.
Click on the class years below to view a complete list of Robertson Alumni graduates from each class.