Twenty-one years after the first Scholars class entered the Program, our alumni community now includes over 550 Scholars. These individuals are leaders all over the word, living out the values of the Robertson Program as teachers, bankers, doctors, poets, entertainers, lawyers, consultants, scientists, researchers, and entrepreneurs. They remain a vibrant and committed group of individuals who make significant contributions to the communities around them.
What drew you to the Robertson Scholars Leadership Program?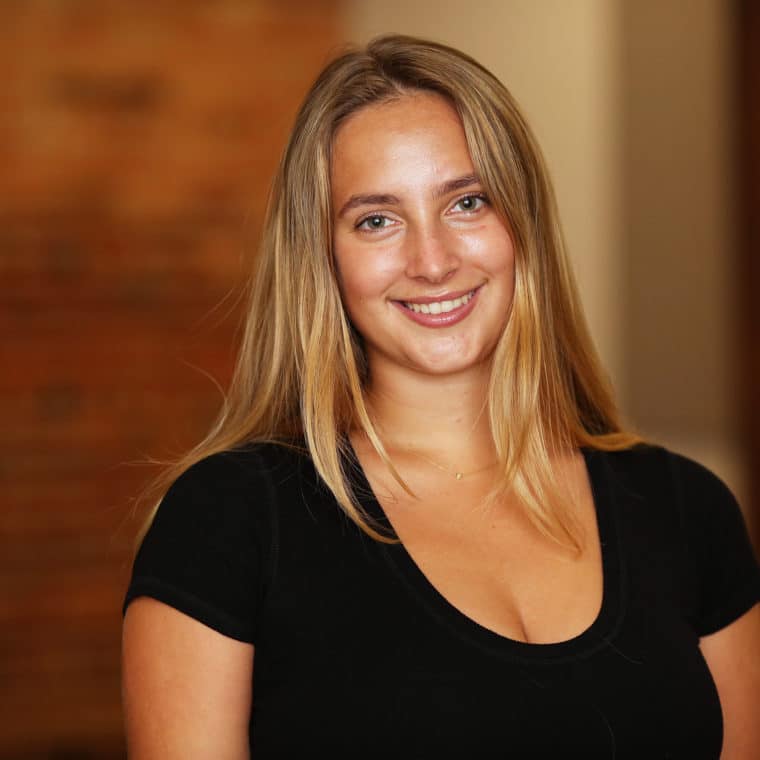 Olivia Olsher
Campus: Duke
Hometown: London, England
High School: St Paul's Girls' School
Being captain of my school netball and track teams over the past 10 years has taught me many invaluable lessons; most importantly how to create a cohesive and effective team in which everyone feels valued and respected. These skills proved incredibly useful during secondary school, when I was involved in the Environmental Action Committee, Science Club, editing of The Foodie Magazine and the Head Girl Team, alongside varsity sports.
While I maintain a broad range of interests, the issue I am most passionate about is environmental sustainability, particularly in relation to food production and distribution. My interests in this area were sparked after volunteering in food banks and were further cultivated as editor of The Foodie magazine. I spent the following summer working on coffee farms in Costa Rica and learning about their production processes, and also interned at Sussex University in the UK, carrying out research on bee behaviour and the effects of pesticides on their health. This experience revealed to me that my interests in biology, people and sustainability could be combined to make constructive change in the way we feed the world's ever-expanding population, and also left me with an insuppressible love for bees!
I am thrilled to be joining and learning from a community of such motivated and inspiring students as those in the Robertson Programme, and look forward to further developing my understanding of the world's food issues so that I can be part of the solution.
What drew you to the Robertson Program?
The core values of the Robertson strongly resonate with me; this programme promotes the development of effective, moral, collaborative and passionate leaders - a commodity that is highly necessary in today's world- and provides an extensive and personalised support network for the scholars. The opportunity to have my mind expanded and my opinions challenged by other Robertsons is something I look forward to immensely.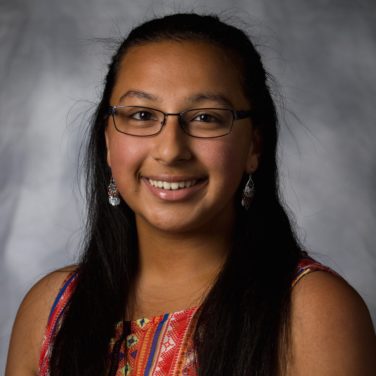 Divya Mahesh
Campus: UNC
Hometown: St. Augustine, FL
High School: Allen D Nease High School
Academic Interests: Psychology major, Neuroscience and Chemistry minors, Pre-Med, specific interests in rural healthcare and health disparities
Extracurriculars / Hobbies: Duke Neurology lab studying Parkinson's Disease, SHAC (Student Health Action Coalition), Robertson Community Coordinators, GlobeMed at UNC, Hindu YUVA
What drew you to the Robertson Program? It is an accepted fact for high school students applying to colleges and scholarships that each student can attend only one university and will most likely pay a fortune to do so. The Robertson Scholars Program completely shatters these ideas and instead offers a whole new world of opportunities. Through the Robertson Program, I will have access to unparalleled opportunities, ranging from the resources of both Duke and UNC, to a vibrant academic community filled with intelligent students who support each other, to quite literally the whole world. I was also drawn to the Robertson Program's focus and emphasis on service and leadership. After attending Finalist Weekend and seeing the true community feeling that exists between the Robertson scholars, I was convinced that this program offers the best of every world.
How has your experience with the Robertson Program shaped your goals and career path? The Robertson Program has provided me with a plethora of opportunities to explore my interests in the medical field. I have wanted to become a doctor for as long as I can remember. Through volunteering in hospitals and founding a free medical clinic during high school, I developed a specific interest in understanding and combatting health inequities. However, the Robertson Program offered me a world of experiences that opened my eyes to the challenges in rural healthcare and deepened my interest in the medical field as a whole.
Favorite Robertson moment: Trip to Asheville during Community Summer! I spent my first summer in Tarboro, NC with four other scholars. During the summer, we decided to meet up with the Whitesburg scholars in Asheville. We spent the weekend hiking, exploring the town, and exchanging stories of our summers in the two smallest Community Summer sites!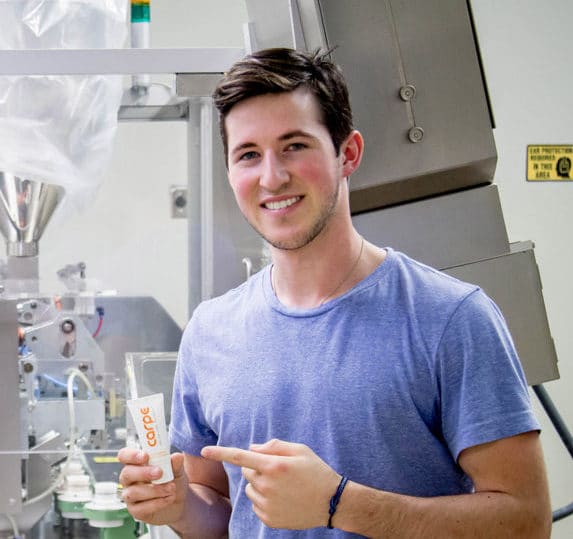 David Spratte
Graduation Year: 2017
Campus: UNC
What Does the Robertson Scholars Leadership Program mean to you?
The Robertson and the incredibly tight knit, supportive, and collaborative community that it fosters, is the reason that I found my passion in life and had the opportunity to pursue it after graduation. Carpe - my startup that I co-founded with a Duke Robertson - exists because of the scholarship and the community and resources that it provided. With the program's growth and expansion over the past several years, I can't even begin to imagine the opportunities that exist through the Robertson Scholarship today.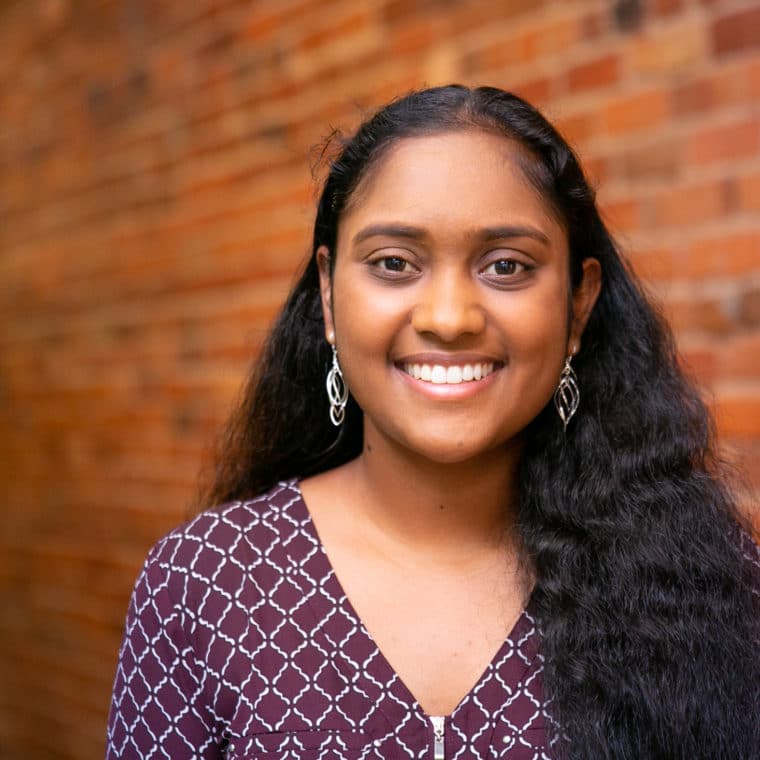 Anjali Gupta
Campus: Duke
Hometown: Edison, NJ
High School: Middlesex County Academy for Science, Mathematics and Engineering Technologies
What drew you to the Robertson Program? 
Everything! Through a wide range of both domestic and international experiences, mentorship, and access to two campuses, the Robertson provides unparalleled opportunities for personal growth and exploration. It encourages students to be curious, engage thoughtfully, and dream bigger – all in the company of a diverse community of scholars.
How has your experience with the Robertson shaped your goals and career path?
The Robertson Program has enabled me to embrace my college experience to the fullest. It has challenged me to think globally and creatively about my interests in health and education – and led to projects and organizations that have been personally and professionally defining for me. My experiences within this program have also taught me to embrace the unexpected and choose adventure.
Favorite Robertson moment?
Community Summer in Tarboro was full of special moments! Picking okra at sunrise. Petting baby kangaroos. Dancing with my students at Freedom School. And countless meaningful conversations with my housemates and members of the community.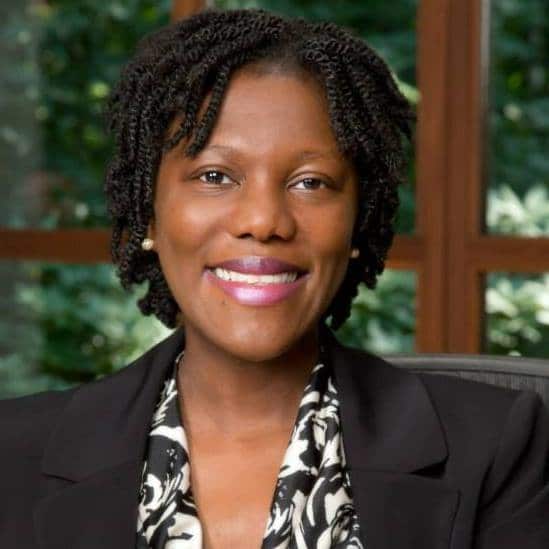 Crystal Sanders
Graduation Year: 2005
Campus: Duke
What Does the Robertson Scholars Leadership Program mean to you?
Being a Robertson Scholar reinforced the biblical principle that to whom much is given, much is required.  I was blessed to study at two of the best institutions in the world without financial hardship. I consider it a privilege and responsibility to serve my community, nation, and world and give back a portion of what I have been given.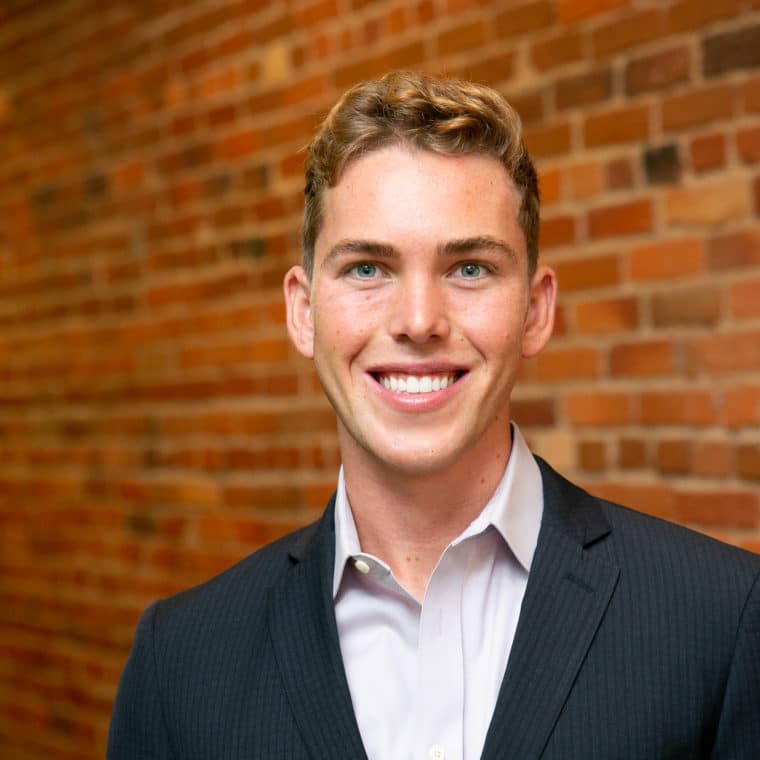 Carsten Pran
Campus: Duke
Hometown: Tustin, CA
High School: Foothill High School
In the short time I have been in college, the world around me has gained many layers of complexity. With each new perspective and discussion I am exposed to, the issues that I thought only concerned a few parties gain more dimension, adding knots to the tangle of conflicts. One such issue that fascinates me with its complexity is climate change. Climate change is a beast made up of hundreds of intricately connected, but sometimes vastly different issues, and not all of them are environmental. I believe that to conquer this beast, we need buy-in from all directions and every discipline. I was thrilled to learn that Duke was taking the initiative to commit to achieve carbon neutrality by 2024 and I wanted my peers to share this excitement and bring a general consciousness about climate change into their own academic paths. I have found platforms on campus in organizations like Green Devils and the Chronicle, where I have worked to facilitate top-down administrative projects within our school's Climate Action Plan by engaging the student body. This semester, I led a team to create an online learning module surrounding Duke's Climate Action Plan, condensing the information in a grab-and-go fashion. I am also working with a group of faculty and students to assess energy use for buildings on campus to provide recommendations on how to reduce energy waste and increase efficiency. Beginning at Duke and UNC and reaching larger audiences, I want to inspire others to believe that complex issues, though overwhelming and often depressing, can be mitigated through the collaboration of people with diverse talents, perspectives and fields of study. By showing action, preaching hope and meeting people where they are, I believe we can alter the entire paradigm of how we view our responsibilities to this planet.
What drew you to the Robertson Program?
I believe attending college is a privilege that comes with the responsibility of making my education apply to something larger than myself. The RSLP, with nearly infinite guidance and opportunities, serves as an incubator for students to develop as leaders who are cognizant of issues in their communities and prepared to find impactful, creative solutions. I was drawn to the program because it provides unparalleled support throughout the difficult and exciting path towards self-discovery and leadership development.
How has your experience with the Robertson shaped your goals and career path?
Perhaps the most valuable thing that RSLP's programming has taught me is how to be comfortable with deep introspection. In the short amount of time I have been a Scholar, I have gained the framework to better understand myself and my surroundings, guiding me onto a track of ongoing self-actualization. Going through this vulnerable process with other scholars has gotten me closer to my core intentions, fears and passions and has helped me feel more confident in my intuition. The constant process of asking questions, listening intently and refining my perceptions has made me obsessed with numerous forms of exploration. Academic and professional development, in my opinion, follows naturally and in tandem.
Favorite Robertson moment?
Sitting on top of a car watching the sun disappear over the soybean fields in the thick, warm Mississippi air with new friends. I joined the program at the end of my freshman year as a matriculate scholar and Community Summer was my first real introduction to a cohort of people who had already gotten close throughout freshman year. I felt an immediate sense of community and trust, which was an amazing introduction to the experiences to come.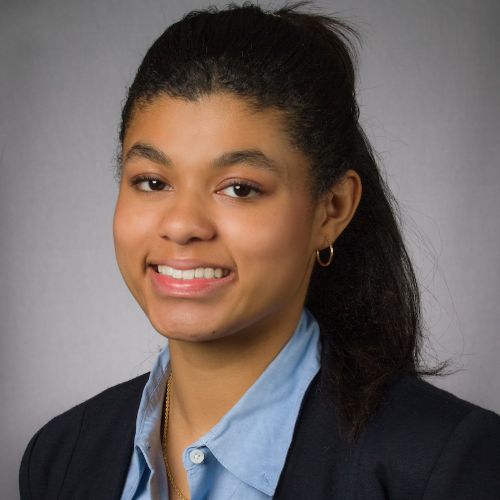 Montana Lee
Campus: Duke
Hometown: Washington, DC
High School: School Without Walls
Throughout high school, I took the greatest pride in my social justice advocacy efforts. I served as the Youth City Council Chair of the DC YMCA Youth and Government program, through which I co-authored a successful bill to remove the tax on feminine hygiene products, which became real DC law. To support the education of girls in low-income countries, I founded a chapter of the national organization She's the First, bringing attention to challenges girls face worldwide when trying to access education, and raising enough money to provide two scholarships to send girls to school. Additionally, I promoted informed consent, positive self-image, and effective communication skills through active involvement in a girls-only support group named Sister Action Sister Strength.
I also exercised my leadership abilities as the first African-American Head Delegate of my school's Model United Nations Team and two-time Co-Captain and Most Valuable Player of the Varsity Field Hockey team. As the Sole Student Representative on my school's Local School Advisory Team, I led student efforts to end class ranking and re-evaluate methods for recognizing student achievement. I also interned in the office of DC City Councilmember Brandon Todd where I was able to further learn about my city's legislative process and serve my neighborhood community.
After my freshman year, I studied Business Communication and International Relations at the University of Oxford through the Oxford Prep Experience, contributing to my interests in global affairs and international business. During the summer between junior and senior year, I designed, programmed, and published a "College Interview" skill for Alexa, Amazon's virtual assistant, through Carnegie Mellon University's Language Technology Institute with a team of other students at the Summer Academy for Math and Science, sparking my passion for technology and desire to pursue Electrical and Computer Engineering.
I fully believe businesses are capable of generating both societal and economic value, so I aspire to translate the social justice work I have already begun into a commercial sphere. More specifically, I want to leverage technological innovation to improve society through profitable ventures and enhance corporate social responsibility and diversity across the technology sector.
What drew you to the Robertson Program?
I was drawn to the Robertson Program by the promise of opportunities to push myself out of my comfort zone and truly challenge myself to be the best possible leader. Early on it was apparent to me that no other institution or program could provide me with the same level of academic and personal growth as the Robertson Program. I was particularly excited about the unique experiences I would have as a Robertson Scholar, especially the Community Summer, the Colloquium, and the Campus Switch.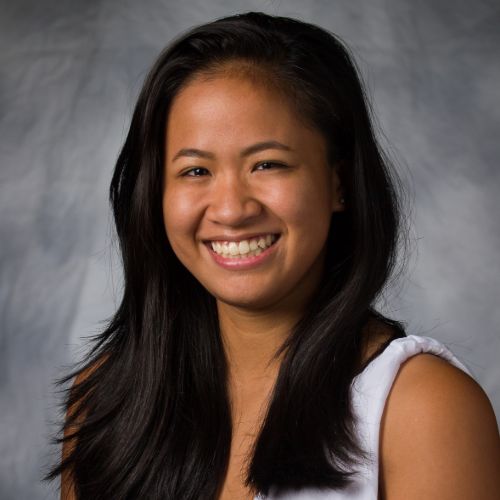 Andrea Gonzales
Campus: UNC
Hometown: Bronx, NY
High School: Hunter College High School
When I started high school, I thought I wanted to be an engineer. I started learning to code in my free time, joined the robotics team, signed up for summer computer camps. But my interests weren't restricted to that at all--I played volleyball, studied classical music theory and piano, joined the layout staff for my school's yearbook and newspaper. I knew that I wanted to work in technology, but I wasn't sure that engineering was the right job for me.
At the end of the summer of 2014, my colleague Sophie Houser and I released a video game called "Tampon Run." Blood by violence is easily accepted by society through video games and other forms of media, but when it comes to menstrual blood--something totally natural and normal--people turn away in disgust. Tampon Run is a simple game that is meant to open up a discussion about this stigma surrounding menstruation. As soon as we launched the game, it went viral overnight; since then, we've won a Tribeca Disruptive Innovation Award, a Webby Award, done numerous talks and TEDx talks, and are slated to release a book published by Harper Collins in March 2017. But aside from the shiny ribbons and awards we've racked up I've come to the decision that I don't just want to program or engineer. Tampon Run isn't just computer science, but also women's issues and social activism--I thrive at the junction of multiple areas of study, and I can't wait to see how my interdisciplinary interests can affect the world I live in.
What drew you to the Robertson Program? Whenever I speak to someone about the Robertson Program, they're blown away by how it just seems too good to be true. And every time I talk about it, I'm blown away by what the Robertson Program offers its scholars. There is no specific track a Robertson Scholar will follow--the Program trusts that we will seek experiences that will help us grow as leaders and learners and gives us access to a wealth of invaluable resources. The Robertson Scholars are a group of such intelligent, creative, and ambitious minds--not necessarily on paper, but in character. In no way am I a traditional student, and I'm very excited to be surrounded by people like me!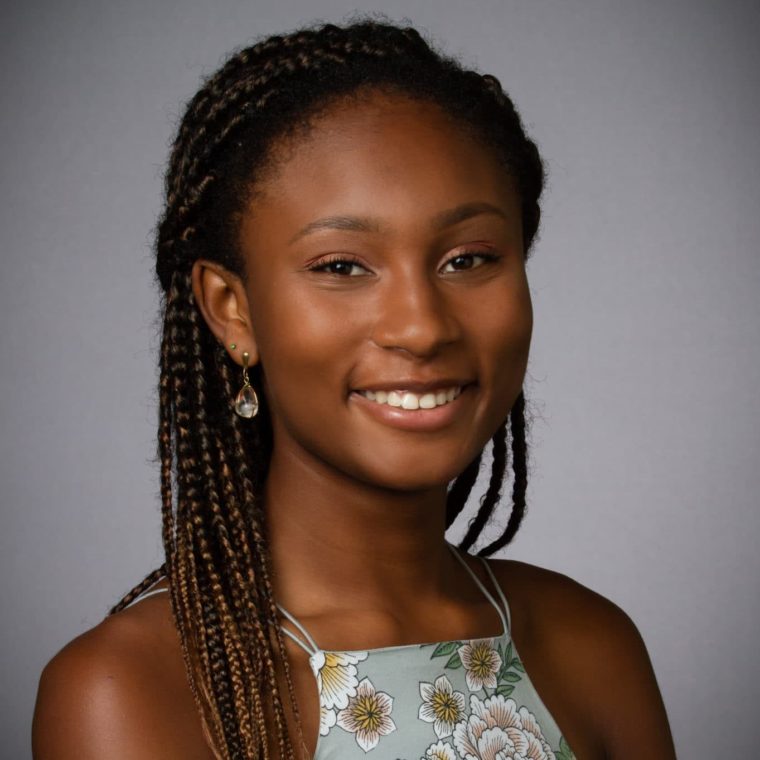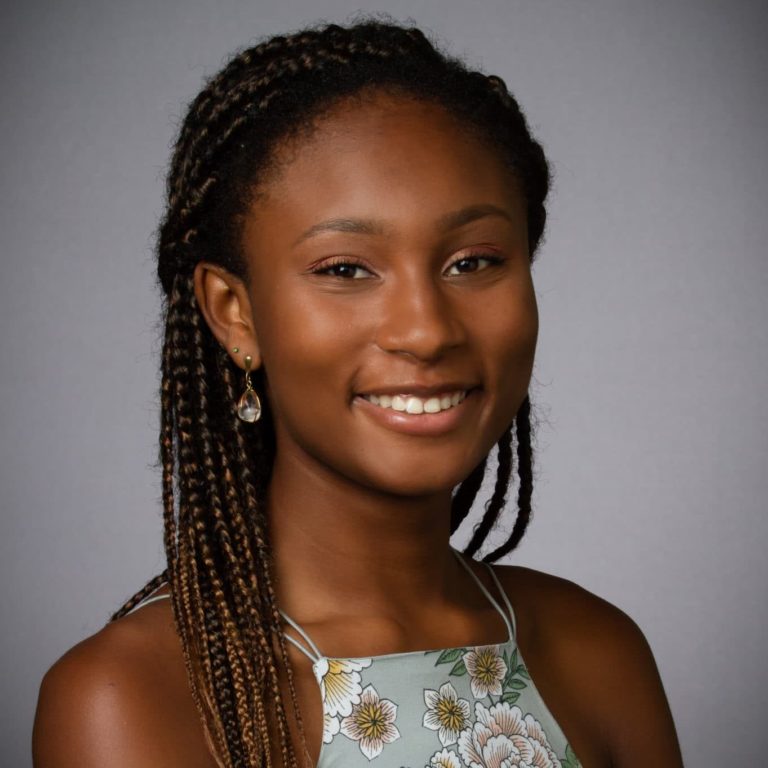 Kamryn Washington
Campus: Duke
Hometown: Ft. Lauderdale, FL
High School: American Heritage School
For the first half of my high school career, I was partial to the STEM fields. Through intriguing chemistry classes and a research project on the effects of BTEX chemicals on C. Elegans, I was sure I would pursue a career in the sciences. I gained new perspective in the summer of my sophomore year when I participated in a six-week African American studies program that concentrated on the intersections of gender, sexuality, and blackness in the formation of identity. Exploring black studies since has enabled me both to better articulate my experiences and observations as a person of color and to better understand the experiences of others. It has fed my passion for creating productive dialogue surrounding social issues, whether in the classroom or through club activities.
Another formative part of my high school experience was my relationship with my local Boys & Girls Club where I volunteered as a tutor for elementary school-aged children. Through tutoring, I was awakened to the dominant role that education disparity, especially along racial and economic lines, plays in determining children's futures and realized a strong belief in the facilitation of true equality of access to resources. As I still do maintain an interest in the STEM fields, in my future pursuits, I hope to integrate my interests in the natural and social sciences to that end.
Throughout my entire educational career, I've developed an affinity for the Spanish language. I was the president of my school's Spanish Honor Society and was fortunate enough to win a travel award to Peru with 22 other students. In college I hope to study abroad in a Spanish-speaking country to pursue fluency in the language I've come to love.
I've fostered my appreciation for music by playing piano, singing in my school's a cappella choir, and studying music theory. In my free time, I enjoy a good laugh with close friends.
What drew you to the Robertson Program? 
The Robertson Program boasts an unparalleled array of incredible opportunities—"dual citizenship" at two top universities, three fully funded summer experiences, and valuable mentorship. But what really drew me to program is the intent with which it offers these resources: its dedication to maximizing the potential of its scholars to positively impact the world. Meeting finalists and current scholars at Finalist weekend solidified my attraction to the program. The community of driven, like-minded yet wonderfully diverse individuals was unlike anything I'd ever experienced and made me thrilled to join their ranks.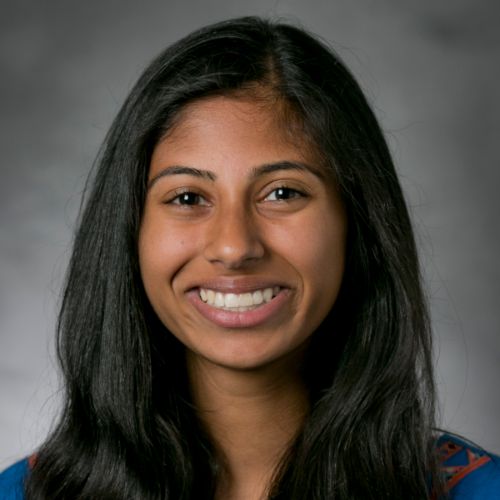 Rasheca Logendran
Campus: Duke
Hometown: Raleigh, NC
High School: Raleigh Charter High School
I like talking to strangers. The conversation and the opportunity to experience and hear new ideas leads me to people, especially those I don't know. Ever since I was young, I've enjoyed learning and vicariously living through others by conversing. My love for that spark of human connection and raw emotion--the fiery discussion that comes with dissent or the glistening passion that comes with joyous anecdotes-- has informed most of my activities and academic interests. Service is one way that I selfishly indulge my love for conversation while helping others. One issue that I have been particularly involved with is the issues in Sri Lanka, the island where my parents are from. By growing up listening and working with the numerous public health and political issues in Sri Lanka, I have found my passion and hope to continue learning more about Public Policy and Biology, especially in regards to healthcare.
During my free time, I oftentimes find myself curled up on a couch watching HGTV for its perfect balance of reality and drama. I also love being active, from doing Richard Simmons workout videos, to playing soccer, to going on long runs-- I'm always open to new fitness adventures. Additionally, I am an avid oatmeal enthusiast-- it not only tastes good but is also good for you.
What drew you to the Robertson Program? The Robertson offered me the opportunity to continue dreaming. This program allows me to continue to set hard goals, to continue to think bigger and in a global context, to continue to challenge myself and be inspired by others knowing that I am supported by a vibrant community of other scholars and that I am part of curated program that will make me the best version of myself possible. Additionally, as a North Carolina native, the battle of which blue reigns supreme has been the background for many of my days. The true looks of bewilderment when I explain to others the seemingly contradictory coalition of Duke and UNC as offered by the Robertson is also a plus.
Click on the class years below to view a complete list of Robertson Alumni graduates from each class.