Remembering Julian Robertson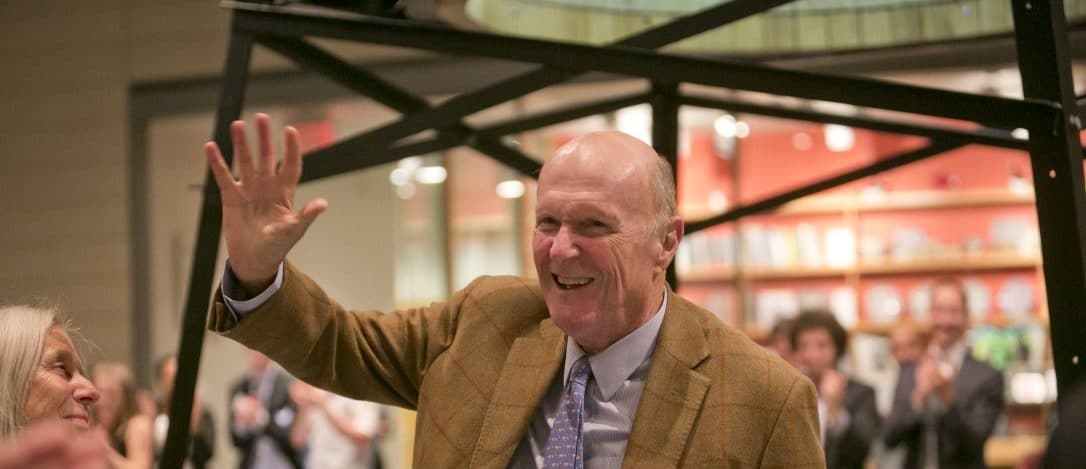 To Our Community and Friends:
Yesterday, we learned the sad news of the passing of Julian Robertson, our Program's founder and benefactor. To say the loss is profound, is an understatement.  To many in our community, Mr. Robertson was not only a generous champion furthering their education and leadership development, but also a friend and mentor. 
Mr. Robertson and his late wife Josie, created The Robertson Scholars Leadership Program more than twenty-two years ago with a bold vision to invest in young leaders committed to making transformational contributions to society. Since the Program's founding, hundreds of Scholars have carried the mantle of being a "Robertson," grounding themselves in the audacious belief that transformation is possible.
Julian and Josie Robertson's dedication to education and the belief that young people could change the world, resulted in an initial gift of $24 million to establish The Robertson Scholars Leadership Program at Duke University & the University of North Carolina at Chapel Hill. Inspired by their sons – one of whom graduated from Duke in 1998, and another from UNC in 2001 – the Robertsons believed that each institution offered a distinctive undergraduate experience, but that the combination of the two promised a breadth and depth of resources that no other university, or program, could match. We are proud to work closely with the Robertson family to uphold Julian & Josie's vision of leadership, ensuring that each cohort of Robertson Scholars leads with a sense of purpose, authenticity, and curiosity – all with a commitment to changing the world for the better.
Mr. Robertson often offered mentorship and wisdom to members of the Robertson community. He will be remembered for his magnanimity of spirit and his genuine interest and investment in the success of Scholars. He believed in the power of leadership and held deep pride in the Scholars & Alumni of the Program, and their impact.
Mr. Robertson was born in Salisbury, North Carolina in 1932. He graduated from Episcopal High School in 1951 and the University of North Carolina at Chapel Hill in 1955. He then served as an officer in the U.S. Navy prior to joining Kidder Peabody and Company as a sales trainee in 1957. In 1966, Mr. Robertson became a Vice President and stockholder of Kidder Peabody and was later made a Director. In 1974, he became Chairman of the Board and Chief Executive Officer of Webster Management Corporation, Kidder Peabody's investment advisory subsidiary, where he served in that capacity until his departure in 1978.
In 1980, Mr. Robertson co-founded Tiger Management, LLC, building the organization to become one of the world's largest hedge funds with assets of more than $21 billion. Beyond Tiger's legendary performance, Mr. Robertson trained and developed a generation of Tiger Cubs, a cadre of analysts and portfolio managers who have fanned out to become today's most successful hedge fund managers.
In 1996, Mr. Robertson founded the Robertson Foundation with his wife Josie. The Foundation focuses on large-scale, high impact grants in three principal areas within the United States: education, environment, and medical research. Among the Foundation's major initiatives are active support of New York City's public education reform, efforts to provide children and families with tools to become self-sufficient and productive, and market-based solutions to combat global warming.
Mr. Robertson served on the boards of the Environmental Defense Fund, The Gilder Lehrman Institute of American History, iMentor, and Lincoln Center for the Performing Arts. He also served on the Leadership Council of the New York Stem Cell Foundation, and as a Trustee Emeritus of Rockefeller University and a Life Trustee of the Wildlife Conservation Society.
Mr. Robertson's legacy is one of profound impact in the lives of many. Our charge is to carry his legacy of leadership forward each day as we align our values and commitments with our actions – exemplifying the high standard he set for us.
With Deep Gratitude and Sadness,

Andrew Lakis, Executive Director